Will John Leguizamo Replace Oscar Isaac In Pablo Escobar Biopic?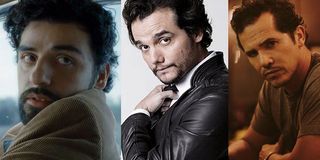 By our count there are currently three dramas coming up that include notorious drug lord Pablo Escobar as a main character. But the soon-to-shoot Ballad of Pablo Escobar has just suffered a major blow, having lost its leading man Oscar Isaac. The rising star who plays the title character of the forthcoming Coen Bros. drama Inside Llewyn Davis has reportedly walked away from the role of Escobar, but Latino Review has uncovered two intriguing contenders whoa are now squaring off for the part: Wagner Moura and John Leguizamo.
The project described as "The Latino Godfather" will show the Colombian criminal's rise to power and—we expect—his eventual gruesome demise. With a script by Matt Aldrich, a scribe whose made the coveted Black List, and The Lincoln Lawyer director Brad Furman at the helm, The Ballad of Pablo Escobar looks good on paper, but it definitely needs a strong leading man to ground its narrative. Leguizamo has been gunning for the role, sharing the audition process with his Twitter followers through Vines and snapshots:
Leguizamo, who was born in Colombia and lived there until age four, is definitely a more recognizable name in the U.S. than Moura. Plus, as he's worked with Furman before on The Lincoln Lawyer, he may seem to have an edge. However, Moura has had a pair of high-profile roles to his credit recently while Leguizamo's mostly been voicing Ice Age's Sid. The Brazilian star first scored notice Stateside with Jose Padilha's action-packed crime-drama Elite Squad: The Enemy Within. And just this past weekend he could be seen stealing scenes as the crippled coyote called Spider in Neill Blomkamp's Elysium. Also, Leguizamo is best known as a zany comedic actor, which could hurt him in trying to switch over to something so heavily dramatic. Regardless, with The Ballad of Pablo Escobar set to shoot this September, we're sure to hear word on Furman's final decision soon. Tell us who you'd like to see snag the role below:
This poll is no longer available.
In the meantime, a drama about Escobar's battle against General Hugo Martinez called Silver and Lead is in development. And Paradise Lost, which features Benicio Del Toro as Escobar, will hit theaters next year.
Your Daily Blend of Entertainment News
Staff writer at CinemaBlend.