Joss Whedon's Much Ado About Nothing Breaks Box Office Records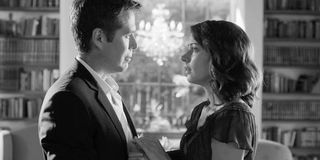 Last summer Joss Whedon proved a box office mega-force with the superhero ensemble The Avengers. This summer, he followed up his sprawling, action-stuff epic with a project that is essentially its polar opposite, a low-budget, black-and-white adaptation of William Shakespeare's Much Ado About Nothing. Also an ensemble, this movie was made up of a cast of Whedon's longtime friends and collaborators, and served as a sort of rejuvenating palate cleanser between Avengers' production wrap and postproduction process. Shot over 12 days in Whedon's own home, Much Ado About Nothing unfolds a classic story of love and deception, and is a natural draw for fans of the genre-loving writer-director.
Turns out, those fans turned out in force this past weekend when Much Ado About Nothing made its theatrical debut, playing in New York, Los Angeles, and San Francisco. The Wrap reports that despite opening in only five theaters, the black-and-white Shakespeare adaptation took in an impressive $183,400, which breaks down to $36,680 per-screen average. The $15,027 it made on Saturday at New York's Lincoln Film Center Society Theater broke the esteemed venue's house record.
Much Ado About Nothing's success so far can be credited to several sources. Critics have been heaping praises on the pic since it made its world premiere at the Toronto International Film Festival last fall. Whedon and his cast have promoted the film at festivals as well as nerd nirvana Wonder Con, and on television. Then of course there's the Whedon fans who have been chomping at the bit in anticipation for Much Ado since castmember Nathan Fillion tweeted a teaser image back in 2011.
Lionsgate picked up distribution rights last September, and will continue to unfurl the film in more and more theaters as June proceeds. Much Ado About Nothing will first open in three more markets on June 14th, and then on 200-300 more screens on June 21st. Meaning very soon it will be easier and easier to see the Shakespeare comedy that has critics buzzing and audience filling art house theaters.
Your Daily Blend of Entertainment News
Staff writer at CinemaBlend.