Joss Whedon Shooting Supernatural Romance In Your Eyes Next Month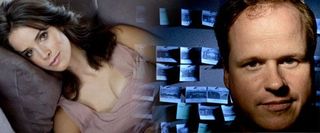 Writer-director Joss Whedon is poised for a make-or-break summer with his first major film, The Avengers set to debut in May. With a massive budget of an estimated $150 million, a star-studded cast that includes Robert Downey Jr., Chris Evans, Jeremy Renner, Chris Hemsworth, and Scarlett Johansson, and anticipated extraordinary action set pieces, The Avengers is expected to preform huge worldwide…or else risks crippling Whedon's film career. It's a high-pressure build-up to the film's premiere, so how is Whedon spending the interim? Why by shooting another low-budget feature under his newly minted production company Bellwether.
The micro-studio that Whedon co-founded with his wife and long-time collaborator Kai Cole produced its first feature last fall, the surreptitiously shot Shakespeare adaptation Much Ado About Nothing. Shortly after news broke about this ensemble comedy that counted such Whedon acolytes as Nathan Fillion, Fran Kanz and Amy Acker among its cast, Whedon revealed the existence Bellwether along with plans to produce a supernatural romance titled In Your Eyes, a film he'd long been attempting to make.
Still, the elusive Bellwether has said little since then about the film's development or project shooting schedule. But Saturday at the Art of Elysium gala in Los Angeles, Vulture inadvertently uncovered not only the film's possible leading lady, but also its shoot start.
When speaking with Abigail Spencer (Cowboys & Aliens), the brunette beauty giddily revealed that she had just signed on to Whedon's "next movie" and that she'd be shooting "next month." While she was tight-lipped on specifics, Spencer did gush:
While Vulture didn't make the connection, it seems clear that Spencer's speaking of In Your Eyes, which Deadline has described as, "a metaphysical love story about two seemingly polar opposites who are deeply connected in ways neither could have ever imagined."
Beyond this ambiguous description little else is currently known about Whedon's soon-to-shoot next effort, but Spencer assured a more formal announcement on the production and cast is set to be made next week. We'll keep you posted.
Your Daily Blend of Entertainment News
Staff writer at CinemaBlend.
Your Daily Blend of Entertainment News
Thank you for signing up to CinemaBlend. You will receive a verification email shortly.
There was a problem. Please refresh the page and try again.