Joss Whedon Won't Make Avengers 2 Without Robert Downey Jr.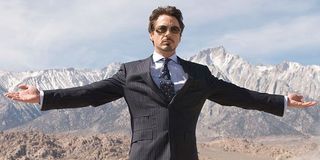 Robert Downey Jr. has been sending Marvel fans into anxiety attacks with his hardball tactics in negotiations of reprising his role as Tony Stark any further. But with The Avengers earning $1.5 billion worldwide, Marvel will make Avengers 2. But if they want Downey back, they will have to pay very handsomely for the privilege. Despite co-star Mark Ruffalo's plea for calm, this situation has some fans worrying that Downey might not return—or possibly worse yet that the role of Tony Stark would be recast. Thankfully, Avengers director Joss Whedon is weighing in, and it's what he says in between the lines that has us most relieved.
In an interview with The Daily Beast over his soon-to-open adaptation of Much Ado About Nothing, Whedon delved into a little Marvel talk. Asked how crucial Downey would be to Whedon's Avengers 2, he declared:
Whedon's not a filmmaker known for shooting his mouth off, and he seems pretty damn confident that Downey and Marvel will work out these negotiations. The truth of the matter seems to be that Downey has the studio—which is reputedly stingy on actor's pay dates—over a barrel, and that barrel may as well be named Iron Man 3. Already the latest Stark installment has taken in more than $1.1 billion worldwide, and a major part of its drawing power is Downey's unparalleled smug charm. Plus, his other entries didn't do too shabby either. So, at this point it seems all but certain that Downey will be back as Iron Man for The Avengers 2, whatever the cost.
In other superhero news, Whedon continues to talk about his desire to helm a superheroine movie, saying he hopes "The Hunger Games will lead to a paradigm shift" that wakes studios up to the commercial appeal of such movies. He add:
Asked what he has lined up after The Avengers, he mentioned an idea for a ballet, and then returned to superheroine talk saying, "And back to the female-hero thing, I'm not going to let nobody do it. It doesn't have to be me, but it could be."
Joss, please. Do it.
Staff writer at CinemaBlend.
Your Daily Blend of Entertainment News
Thank you for signing up to CinemaBlend. You will receive a verification email shortly.
There was a problem. Please refresh the page and try again.