Jude Law's Safecracking Comedy Dom Hemingway Adds Demian Bichir And Emilia Clarke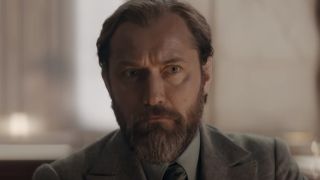 (Image credit: Warner Bros.)
Demian Bichir and Emilia Clarke have both had very good years, but for totally different reasons. Bichir was a surprise Oscar nominee earlier this year for Best Actor thanks to his role in the immigrant drama A Better Life, and has appeared since then in Oliver Stone's Savages and nabbed a role in Paul Feig's buddy cop comedy The Heat. And Clarke has become very, very famous as Daenerys Targaryen-- a.k.a. the Khaleesi, Mother of Dragons-- on Game of Thrones, the kind of role that will inevitably lead to bigger things and quickly.
Now one of those bigger things seem to have presented itself, as both Bichir and Clarke are taking roles in Dom Hemingway, a black comedy set to star Jude Law as the titular safecracker who's back in action in London after 12 years in jail. According to Deadline Bichir will play the crime boss based in the south of France who Law's character goes to visit. Clarke's role isn't specified, but given Law's ability to play a ladykiller onscreen, I'm sure there's no lack of a role for a pretty woman in a movie like this.
The film will be directed by Richard Shepard, whose previous features are The Hunting Party and The Matador, and who also directed episodes of 30 Rock and Game Of Thrones's HBO sibling Girls. Though these additions to the supporting cast are strong, it's going to be Law as a charismatic safecracker as the main draw of the film. he's spent so much time as Sherlock Holmes's sidekick, or popping up in small roles in the likes of Hugo and Contagion, that it ought to be a pleasure to see him as a leading man again.
Your Daily Blend of Entertainment News
Staff Writer at CinemaBlend