Juliette Binoche In Talks For Godzilla Remake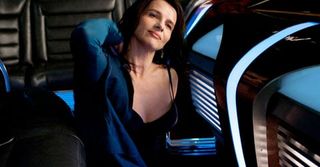 When you think of French thespian Juliette Binoche, you think of her stirring turn in Krzysztof Kieslowski's Three Colors trilogy, or maybe her Oscar-nominated performance in Lasse Hallstrom's Chocolat, or her Oscar-winning portrayal in Anthony Minghella's The English Patient. You don't think of monster movies. But how dare you put Binoche in a box. If she wants to be in a monster movie, she'll be in the biggest monster franchise of them all!
Variety reports Binoche has entered into negotiations to co-star in Legendary's Godzilla reboot. Directed by Monsters helmer Gareth Edwards, the movie will of course focus on the iconic radioactive reptilian behemoth who is destined to cause earth-shattering collateral damage as he tears around some unfortunate cityscape. However, details on the plot and its characters are currently being closely guarded.
What we do know is that Aaron Taylor-Johnson (Kick-Ass, Anna Karenina), Bryan Cranston (Breaking Bad, Argo), and rising starlet Elizabeth Olsen (Martha Marcy May Marlene, Liberal Arts) are also reportedly in talks. Though at the BAFTAs earlier this month, Olsen seemed already committed to the project, and teased that this would be no lighthearted monster romp. In fact, she insisted the reboot would tap into the roots of the original Japanese movies. What that means remains to be seen.
In the meantime, you can look for each of these actors this year. Cranston continues playing Walter White on Breaking Bad, while Taylor-Johnson fronts Kick-Ass 2, due out this summer. Olsen co-stars in Spike Lee's Old Boy remake, coming in October, and Binoche is earning rave reviews out of the Berlin International Film Festival for performance in the upcoming French drama Camille Claudel, 1915. The buzzed about biopic opens in France next month. Hopefully, a U.S. release will follow shortly thereafter.
Staff writer at CinemaBlend.
Your Daily Blend of Entertainment News
Thank you for signing up to CinemaBlend. You will receive a verification email shortly.
There was a problem. Please refresh the page and try again.