Justin Lin Won't Do Highlander Or Die Hard 5, But Has Already Shot The Ending Of Fast Six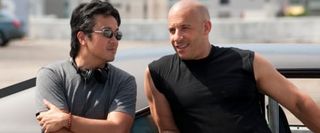 Justin Lin, the director who suddenly entered the stratosphere of success when Fast Five became a massive success this spring, is out doing press right now to promote that movie's DVD release. And because his name has been attached to seemingly every high-profile upcoming project in the last few months, including a new Terminator movie and the inevitable Fast Six, he has a lot of rumors to address and even more grist to feed to the rumor mill.
First of all, though, he had to take two projects off the table. Lin told THR that he won't in fact be directing a reboot of Highlander, a project he's been attached to for nearly two years. He'll stick around as executive producer, but Summit is now moving quickly to find a replacement director, since apparently they've got to use the Twilight cash right now to get a new franchise off the ground. In a different interview with The Playlist, Lin confirmed that he was in fact in the running to direct Die Hard 5, but he had to turn it down: "The first Die Hard changed me as a kid when I watched it. But 'Die Hard 5' is just not something that I'm going to do, or I'm interested in."
As for projects that are actually happening, he told the Playlist he sat down recently with James Cameron to talk about the next Terminator movie, a meeting that was effectively a favor since Cameron won't be involved in the new project at all. And in an interview with Box Office Magazine, Lin said he's already shot a 12-minute sequence for the sixth Fast and Furious movie, which has a release date set for May 24, 2013. And, surprisingly enough, it's the last sequence of the film, that Lin says he shot just so the movie would end on his own terms, even if he decided not to direct it. It's not necessarily what we'll see in the movie, just pre-viz effects, but it's a blueprint for how he wants to end the story. Here's how he explains it:
He also talked about how he decided to include the big post-credits scene at the end of Fast Five, which I won't spoil here but which you should read about at Box Office if you've seen the movie already-- apparently Vin Diesel was very involved in deciding whether or not to include it, and the big reveal in that scene is something they "always had in our back pocket." Yes, Justin Lin is truly a mastermind of the Fast franchise.
Staff Writer at CinemaBlend
Your Daily Blend of Entertainment News
Thank you for signing up to CinemaBlend. You will receive a verification email shortly.
There was a problem. Please refresh the page and try again.