Kane & Lynch Director Alessandrin Bails A Month Before Shooting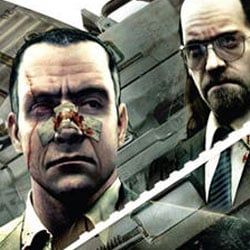 The much discussed adaptation of Eidos Interactive's Kane & Lynch seemed to be a video game movie with a mountain of potential. With Bruce Willis and Jamie Foxx in leading roles and an up-and-coming director in Patrick Alessandrin, Kane & Lynch was looking to continue the trend set by Prince of Persia by not completely sucking. Everything was set to start shooting next month, but unfortunately, the LA Times is reporting that things aren't going quite as smoothly as we hoped.
Director Patrick Alessandrin (District 13: Ultimatum) has left the project with only weeks left before production was set to start, and it's unclear whether it was his decision or not. The film's producers are currently scrambling to find a replacement, with two directors who were previously considered--Wayne Kramer (The Cooler, Running Scared) and F. Gary Gray (The Italian Job, Law Abiding Citizen)-- in the running. The Times reports that there are also talks going on with Antoine Fuqua (Training Day, Tears of the Sun, Brooklyn's Finest), but as of now, there is no deal in place with any of them.
Unfortunately, this also means that the October start date is a definite no-go, and estimates put production beginning no earlier than 2011. Whether or not this will cause big-name stars Willis and Foxx to jump ship remains to be seen, but I'm remaining optimistic. Like Prince of Persia, Kane & Lynch has a certain quality about it that makes it ideal for some awesome entertainment. It's definitely not a deep or intellectual narrative, telling the story of a death row-bound inmate and a medicated psychopath who must work together to pull off a big job, but it's got enough memorable characters and set-pieces to set the stage for a very fun film.
Your Daily Blend of Entertainment News
Thank you for signing up to CinemaBlend. You will receive a verification email shortly.
There was a problem. Please refresh the page and try again.