Karl Urban As Trek's Bones McCoy?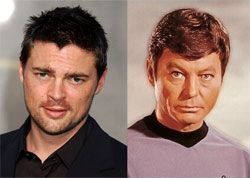 Remember when we were all worried that Trek might be going low budget and hiring Karl Urban to be the movie's villain? Well our panic was half right. He may end up in the film, but as Dr. McCoy. The story comes from the guys over at TrekMovie, where their deeply places sources tell them Urban in talks for the part of Leonard "Bones" McCoy, the Enterprise's chief doctor and all around wry-observer of the human condition.
Whoa, calm down a second. Yes, Urban from New Zealand and not the Southern United States. Yes, he has a New Zealand accent. But accents can be faked. Heck, Trek already has a long history of fake accents. You think Doohan talked like that all the time? Assuming Urban can pull off a southern drawl, maybe it's not such a stretch to have him as Bones. If he'd shave off that beard, his face is almost the same shape as the great DeForest Kelly, who originated the Bones role. More importantly, despite all the bad movies he's been in recently, in the past Urban has shown signs of being a fairly decent actor. Plus now Trek is connected to Lord of the Rings… and that's just all kinds of geek cool.
The best news here is that if they're considering a "name" (albeit a minor one) instead of an unknown part for the character, then McCoy almost certainly plays a pivotal role in the film. There has been very little talk of McCoy at all from JJ Abrams and the folks at Paramount. I for one was worried that they'd forgotten him. Star Trek isn't the Kirk & Spock show. The reason it worked so well was the dynamic between the three characters of Kirk, Spock, and McCoy. Without McCoy everything falls apart. There's a better chance than ever now that Abrams gets it, and that it's the big three, not the big two. Cross your pointed ears.
Your Daily Blend of Entertainment News