Katherine Heigl Escapes Polygamy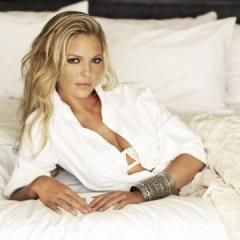 The polygamist religious group Fundamentalist Church of the Latter Day Saints has been in the news a whole lot lately, after a raid on the group's Texas compound resulted in women and children being taken away, only to be returned case. Now there's a movie in the works about a similar case from a different location of the church, and the person to tackle this serious, heartbreaking issue is… Katherine Heigl? She plans to produce and star in an adaptation of Escape, the memoir by Carolyn Jessop about her life with and eventual escape from the FLDS compound in Utah.
The Variety article says Jessop's book chronicles her marriage to a 50-year-old man at the age of 18, as well as her testimony against the group's leader, Warren Jeffs, who is currently serving time in jail for arranging marriages for underage girls. It sounds like a fascinating story, and a timely one too, but is Katherine Heigl really the person to play this part? She may have drama chops I don't know much about—I'm not sure Grey's Anatomy counts-- but this seems an awfully big leap for someone who has so recently established herself as any kind of film actress.
Then again, I'm always complaining about there not being enough good roles for women, and Carolyn Jessop sounds like an amazing role model, even if she'll spend much of the movie as a victim of the various men in her life. And Grey's Anatomy fans are probably already sharpening their knives and preparing to tell me how Heigl is the greatest actress of our generation. So, OK Heigl! Show us what you can do!
Staff Writer at CinemaBlend
Your Daily Blend of Entertainment News
Thank you for signing up to CinemaBlend. You will receive a verification email shortly.
There was a problem. Please refresh the page and try again.