Keira Knightley Confirms She's Done With Pirates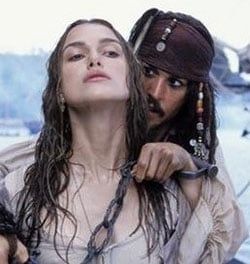 In case you've missed it when we told you about it or all the other times she's said it, Keira Knightley came out to MTV today and confirmed yet again that she's not going to have anything to do with any future Pirates of the Caribbean movies.
She tells them, "I think I can't wear corsets for awhile." Then she went off and signed up for 6 more corset-wearing period movies. But she sounds like she's more than happy to let Pirates move on without Elizabeth Swann. She says, "I think it's on to some different things."
With Johnny Depp signed and both Bloom and Knightley nowhere in site, our scoop from more than a year ago seems even closer to coming true. It'll be up to Captain Jack Sparrow to fly the Pirates of the Caribbean flag alone from now on.
Watch all of MTV's interview with the pouty-lipped Ms. Knightley via the embed below:
Your Daily Blend of Entertainment News