Kevin Costner Reunites With His Waterworld Director To Learn Italian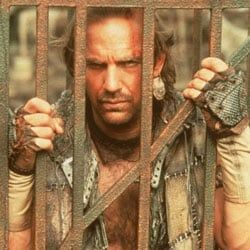 Kevin Costner will say ciao to director Kevin Reynolds in Germany. According to Variety, the two are planning to reunite to shoot the spy comedy Learning Italian at the Bavaria Film Studios and other locations in southern Germany. Costner will star as a CIA agent stationed in a coastal town in Italy assigned to monitor a KGB agent. When both are called back to their respective countries, they decide to concoct a fake threat so they can continue to live in Italy.
The story sounds like an interesting bromance, but the real issue here is the reunion of Costner and Reynolds. After working together on Fandango and Robin Hood: Prince of Thieves, the two suffered a professional meltdown on the set of Waterworld. Issues including production impediments, budget issues and a set collapse that ultimately boiled over, Reynolds left the project and Costner directed the final scenes.
According to Deadline, even after the Waterworld debacle, the two remained friendly. Hopefully 15 years of friendship is enough to overcome such a significant professional disagreement. As long as those two play nice, we could have a promising project here. It'll be interesting to see what time period they go for and who they nab to play the KGB agent. I say at the end of the Cold War with Mickey Rourke opposite Costner. After Iron Man 2 he's got to have that Russian accent down. Plus, when's the last time we've seen Rourke do some comedy?
Your Daily Blend of Entertainment News
Staff Writer for CinemaBlend.