Is Kevin Smith Going To Prison With Jason Mewes?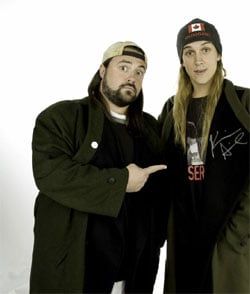 If you're tuned in to director Kevin Smith's excellent weekly podcast, then you know something big is on the way for the Zack and Miri Make a Porno director. Smith's most recent SMods have been filled with vague talk about a mystery project he'll soon be working on, a project which is something completely different from anything he's done before. Smith has frequently referred to this as the next chapter in his life… but he's not telling what'll happen when he turns the page.
It could be that he'll start putting more time into his sporadic acting career. IMDB lists Kevin as being in the cast of K-11. That's the prison movie, which casts Twilight babes Kristen Stewart and Nikki Reed as men behind bars. They star opposite Smith's buddy Jason Mewes, whose involvement could have drawn Kevin to return to acting in the flick. Smith doesn't act often, but when he does, he's actually pretty good. He's even good in Catch and Release, something which was not achieved by Jennifer Garner. Or this could be just another case of misguided IMDB users assuming incorrectly that wherever Jay goes Silent Bob must follows. IMDB is frequently wrong, and even they list this as just a rumor.
Whatever's going on, something big is definitely up with Smith. My theory is that he's probably decided to direct someone else's material. It's something he's never done before. In fact Kevin has in the past, vowed never to direct anything he hasn't written. Yet from the tone of his recent Smodcasts, he's clearly ready for big, big change. My money's on him jumping from indie darling to blockbuster studio director, rather than making the transition from director to full time actor. Maybe he'll finally take on a superhero movie, or maybe he'll totally cash in his credits and direct Wild Hogs 2. Hey Tim Allen has to have bottomed out by now. This is the right time to get in on that sweet sweet Tool Man action, because it can't possibly get worse. It must be all up from here.
Your Daily Blend of Entertainment News