Kick-Ass Author Bringing Superheroes To Scotland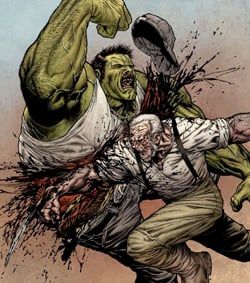 Mark Millar is one of the most exciting comic book authors working right now. Having written The Ultimates and Civil War for the Marvel Universe, the writer also penned two personal projects that have found their way to the big screen: Wanted and the upcoming Kick-Ass. Millar recently sat down with STV to talk up his latest project, an original screenplay that he'll be directing.
Millar had a lot of interesting things to say about his film, which he is planning to shoot in June and July. Predictably it will be a superhero film, but he's keeping it set in his home country of Scotland which will be a nice switch for anyone getting tired of seeing caped crusaders bound around LA, NY or DC. He's looking to steer clear of the cheesy camp generally associated with BBC projects, hoping for something "as cool as X-Men 2."
Citing District 9 as his inspiration to keep the story in Scotland, the author also wants his film to feel a bit like Trainspotting. Anyone else officially excited to see a superhero movie made by one of comics' top writers inspired by District 9, X2, and Trainspotting? I sure am.
Millar's confidence about not only the project itself but also his own transition from comics to film is inspiring. It's nice to see an artist truly care about what he creates who is willing to step outside the box to make his art work. This should be a very interesting six months for Mark Millar.
Your Daily Blend of Entertainment News
Thank you for signing up to CinemaBlend. You will receive a verification email shortly.
There was a problem. Please refresh the page and try again.