Kristen Stewart's Men In Prison Movie Still Happening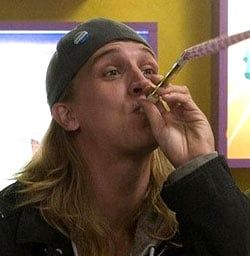 Jason Mewes, better known to most as Jay to Kevin Smith's Silent Bob, is teaming up with Twilight sensation Kristen Stewart for a prison comedy. And if that's not weird enough, Kristen Stewart will play a dude!
We actually first hard about this project back in November. Jason Mewes toplines the film while Stewart co-stars with fellow Twilighter Nikki Reed. Both undergo gender transformation for their roles. It's directed by Kristen Stewart's mother Jules, which I guess explains how they landed one of the hottest commodities in Hollywood to show up for it. The update here is that this isn't just some crazed fantasy after all, it's really happening.
Jason Mewes stopped by Moviehole today and talked to them about the movie, being called K11. He says their start date in January slipped, but they're shooting in August or September. This may have something to do with Stewart's commitment to the Twilight sequel New Moon which is due out in November and should by this time, be heavy into production if they plan to have it ready by fall 09.
As for Mewes, it's always great to see him getting more parts outside of Smith's View Askew universe. With his willingness to go full testicle for a role, he's the perfect choice for any prison shower scene. Click over to MH for more on Jason's role in K11.
Your Daily Blend of Entertainment News
Thank you for signing up to CinemaBlend. You will receive a verification email shortly.
There was a problem. Please refresh the page and try again.