Kristen Wiig And Bill Hader Reunite For The Skeleton Twins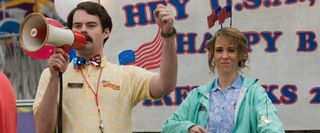 Two of the biggest stars of their generation of SNL, Kristen Wiig and Bill Hader have been cruelly separated this season, with Wiig departing the show last spring on her way to what's surely even bigger success than Bridesmaids.But now the two are setting themselves up for a reunion, as they're both now on board to star in The Skeleton Twins-- and yes, they are playing the title characters.
And while it might sound like a traditional indie dramedy about family relationships and learning who you can count on, there's a bit of a supernatural twist too-- according to Variety, the two play estranged siblings who both cheat death on the same day, inspiring them to reunite and "confront how their lives went wrong." Both of these confrontations start out with looking back at old loves, with Wiig's Maggie looking back over her marriage to Lance (Luke Wilson), and Hader revisiting an old flame named Rich (the actor doesn't seem to be cast yet). As Variety tells it, "they realize the key to fixing their lives may lie in fixing their relationship with each other."
This is the kind of story that could really go either way depending on how it's executed, and director Craig Johnson, who previously made the micro-indie True Adolescents with Mark Duplass, is a bit of an unknown quantity. But seeing Hader and Wiig reunited might be enough reason to see it, especially when the insanely talented comedians are given slightly weightier material to dive into. With Hader likely to leave SNL soon, we might have to hope for more reunions like this to keep this dynamite pair of SNL talents together.
Staff Writer at CinemaBlend
Your Daily Blend of Entertainment News
Thank you for signing up to CinemaBlend. You will receive a verification email shortly.
There was a problem. Please refresh the page and try again.