Kristen Wiig May Write Bridemaids 2 After All, Just Not Yet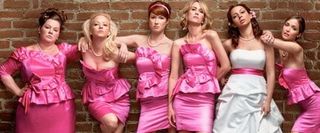 Universal's been quite clear that after the worldwide and record-smashing success of the female-fronted R-rated comedy Bridesmaids, they are determined to pursue a sequel with or without the film's star and co-writer Kristen Wiig . Soon, speculation arose that Universal would center Bridesmaids 2 on breakout star Melissa McCarthy, but once she declared she'd be no part of a Wiig-less spin-off, it seemed the sequel was dead. However, Wiig and McCarthy's blonde and brassy co-star Wendi McLendon-Covey has offered new insight on the would-be sequel's development, telling E! that Wiig is still interested in penning a sequel…eventually.
This sentiment has been echoed by Bridesmaids' producer Judd Apatow, who was rumored to be disinterested in a sequel without Wiig and Mumulo's involvement, but was more ambiguous publicly, stating to THR, "We don't want to do it unless it can be great. I don't think anyone has had the brain space to think about it yet. Hopefully that can begin this year."
This seems a smart strategy as many fans worry that such a rushed effort would result in a sequel tantamount to The Hangover: Part II, which was widely criticized for sloppily rehashing the original plotline in a new locale with no new laughs. When asked where the Bridesmaids would go in their sequel, McLendon-Covey offered a couple of tantalizing possibilities:
As to the film McLendon-Covey alludes to which Wiig will write and direct, that would be an adaptation of Monica Drake's quirky self-discovery novel Clown Girl, which centers on a young woman--well clown girl—who seeks to stay true to her art but is lured into the money-driven world of corporate clowning. Wiig acquired the rights for the film on her own, and as she did in Bridesmaids, plans to co-write with Mumolo as well as star. It's been ages since I read the novel, but from what I can recall, Wiig's sense of embarrassment-heavy but shame-free humor should serve as an excellent pairing with this bittersweet and funny material.
Until then, Wiig will be featured in Jennifer Westfeldt's New York-set comedy Friends With Kids which is due out March 11th, and will star opposite Glee pretty boy Darren Criss in the dark comedy Imogene.
Staff writer at CinemaBlend.
Your Daily Blend of Entertainment News
Thank you for signing up to CinemaBlend. You will receive a verification email shortly.
There was a problem. Please refresh the page and try again.