Kung Fu Panda 3 Is Poised To Have A Huge Opening Weekend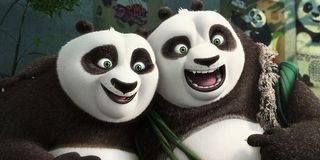 This is just the kind of thing that studios love to see, DreamWorks Animation's Kung Fu Panda 3, which just opened this weekend, is poised to rule the box office by a large margin. Based on strong early showing numbers, the studio should wind up with a substantial chunk of change in their pockets come Monday morning.
According to Variety, Kung Fu Panda 3 it out-grossing fellow theatrical newcomer The Finest Hours—which is also its closest competition at the moment—by more than four times. If this keeps up, the latest chapter in the continuing adventures of Po (voiced by Jack Black) should have a $13 million Friday and take in well north of $40 for the whole weekend.
Current estimates put it in the $44 million range, which, if these predictions play out over the course of the last weekend in January, would put it close to the debut of Kung Fu Panda 2, which raked in $47 million during its opening frame. Considering that film ultimately went on to gross more than $660 million worldwide, that's certainly a promising start. The two opened in a comparable number of theaters, with the earlier film showing on 3925 screens, while the latest endeavor is booked at 3955.
By all appearances, unless something drastic happens, like all the copies are somehow lost, Kung Fun Panda 3 will easily be the box office champ this weekend. The other new releases are lagging way behind—real-life Coast Guard rescue drama of The Finest Hours, Marlon Wayans' Fifty Shades of Grey spoof Fifty Shades of Black, and the troubled Natalie Portman western Jane Got a Gun, are all way in the rearview. Heavy Oscar-favorite The Revenant and juggernaut Star Wars: The Force Awakens should also continue to be players, but won't take the top slot.
DreamWorks Animation also has an additional scheme to help Kung Fu Panda 3 become even more of a financial success. When it opens in China, there will be two different versions. One will be the standard release, where the characters' mouths match the English dialogue. There will be another, however, where the animation will be tweaked so that when the dialogue is all dubbed, the mouths and movements will match that—so no more comical dubs where the lips and words don't quite sync up.
DreamWorks Animation CEO Jeffry Katzenberg hopes this will encourage Chinese audiences to see the film multiple times. If nothing else, it is also yet another illustration of just how important the international market, and especially China, has become to the success of Hollywood films. Kung Fu Panda 2 was the highest grossing animated movie ever in China, and the studio hopes to best that this time around. We'll see how successful they are with this endeavor fairly soon as Kung Fu Panda 3 also opened in China today.
Your Daily Blend of Entertainment News