Kurtzman And Orci Join Jeremy Slater For Airport Thriller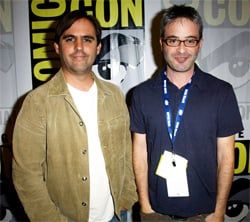 The writing and producing team of Alex Kurtzman and Roberto Orci really exploded last year. They gave us one of the year's top earners in Transformers 2: Revenge of the Fallen, and a legitimately great movie with the rebooted Star Trek franchise. The pair are working on scripts for Jon Favreau's upcoming outing Cowboys and Aliens and a sequel to last years big space adventure, both of which they'll also produce. You'd think with all of that on their plate, on top of many other projects in development, that they'd stop adding more work to their already expansive timeline. Well, you're wrong.
According to THR, the dynamic duo have taken young writer Jeremy Slater under their wing. Slater, with a little development from Kurtzman and Orci, put together a pitch for a thriller set to take place in the most tension-filled location in the country: the airport. The pitch was immediately sold to DreamWorks, where Kurtzman and Orci have a first-look deal. When Slater completes the script, the two are set to produce using their experience on 2008's thriller Eagle Eye as a jumping off point.
With so much work slated, expect to be hearing a lot more about what Kurtzman and Orci get up to in the coming years-- and since the Transformers movies have been really their only blunders, it's fair to expect something great out of this Eagle Eye meets The Terminal project.
Your Daily Blend of Entertainment News