Lee Pace Joins Steven Spielberg's Lincoln To Play A Confederate New York City Mayor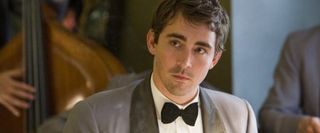 Lee Pace, the adorable star of the adorably short-lived TV show Pushing Daisies, has had a tricky time pursuing movie stardom since that show ended. He was excellent in Tarsem's The Fall, but I think we all know the visuals and the preternaturally talented child actress Catinca Untaru were the real stars of that movie. He's also been excellent in movies like Ceremony and Miss Pettigrew Lives for a Day, but I'll give you a dollar if you can find 10 people in your zip code who saw both of them. And then, to pay the bills, he's showed up in Marmaduke and When in Rome, but since we like the guy we'll just not talk about it.
Things are looking up for the actor, though, and in the form of a hilariously diverse resume for 2011. He's just wrapped up a stint on Broadway in The Normal Heart, the revival of the Larry Kramer play that snagged three Tonys, and will head to New Zealand later this year to play the Elven King Thranduil in The Hobbit, just before he pops up onscreen in The Twilight Saga: Breaking Dawn-- Part 1. As if that weren't enough variety to give you whiplash, he's also picked up an impressive new role for next year. Deadline reports that Pace has joined the massive, increasingly amazing cast of Lincoln's, Steven Spielberg's long-delayed biopic about the President that will put Daniel Day-Lewis in the stovepipe hat and surround him with the likes of Sally Field, Tommy Lee Jones, Joseph Gordon-Levitt, John Hawkes, David Strathairn and Walton Goggins.
Pace will play New York City mayor Fernando Wood, an early supporter of the Confederacy who so wanted the city to keep its profitable cotton trade with the South that he suggested the city secede from the Union and establish itself as a sovereign city-state called "Free City of Tri-Insula." I'm pretty sure I've just come across the name of the next hip cocktail bar that will open in my neighborhood, and also an interesting character motivation for Pace's next role. Everybody wins!
Your Daily Blend of Entertainment News
Staff Writer at CinemaBlend