Lion King Blu-Ray Finally Gets Release Date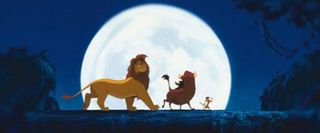 Disney's The Lion King has been out of print since 2004—long enough that the library I work at doesn't even own copies of the film, anymore. Smart little patrons snapped those fuckers up as soon as the DVDs went scarce. Disney finally did something about it, announcing The Lion King for a 3D theatrical release in September. You can read all of Josh's reasons the theatrical release sucks, but know there is light at the end of the tunnel. With a theatrical release, there is generally a subsequent in-home release, and The Lion King is no exception.
The Lion King 3D Blu-Ray, Blu-Ray, and DVD streets on October 4. The company is especially pushing the 3D release, with president of Distribution Bob Chapek calling it "The Lion King like never before." If you do desire to purchase the film, you won't be limited to the 3D 4-disc combo pack. A two-disc Blu-Ray and one-disc DVD will also be offered. If you're into the motherload of a Lion King release an 8-disc "trilogy" set will be offered for $100 bucks. "The Trilogy" meaning the addition of two shitty direct-to-DVD releases Disney created before John Lasseter put the kabosh on such nonsense.
Disney generally releases one title from the vault at a time, but 3D Beauty and the Beast will also hit the market on October 4. Maybe Disney feels like it isn't breaking its own rules since the company already released a version of Beauty and the Beast on Blu-Ray, last year. Fingers crossed both of these 3D releases fail and Disney will quit tampering wholly with our classics. It's one thing to make the color brighter and quite another to turn the whole experience into something campy.
Your Daily Blend of Entertainment News
Thank you for signing up to CinemaBlend. You will receive a verification email shortly.
There was a problem. Please refresh the page and try again.