Little Shop Of Horrors Getting A Blu-Ray And Director's Cut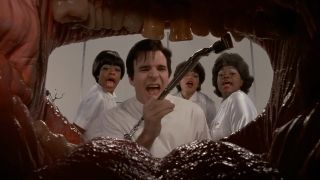 (Image credit: Warner Bros.)
I've never been much of a fan when it comes to movie musicals. Sure, I'll check out the notable ones when they come around, and I loves me some Sweeney Todd, but they aren't the sort of thing I'm likely to return to over and over on DVD. The one exception: Frank Oz's 1986 musical version of Little Shop of Horrors, which combines a twisted sense of humor with shower-karaoke-worthy songs in the story of a meek florist who finds fame with a mysterious new plant. The only downside is that pesky craving it has for human flesh. Now Warner Home Video has announced that Little Shop will be coming to Blu-ray this October, complete with a director's cut, alternate ending, and more. You can keep your cats, producers, and opera phantoms; I'll take Steve Martin singing an ode to sadistic dentistry any day.
The new Little Shop of Horrors release is one of Warners' "Blu-ray books," which packages the disc with a handsome booklet filled with production photos and behind-the-scenes tidbits. The Blu-ray will include the theatrical version of the flick as well as the director's cut. As for the alternate ending, it was previously released on a limited number of the earlier DVD editions, but only in black and white. That ending has now been colorized, remastered, and restored, so even if you've seen it, you've probably never seen it looking this good. Here's the rundown of bonus features:
Theatrical version of the film with optional commentary
The Director's Cut featuring the newly restored 20-minute alternate ending
Digitally re-mastered picture and 5.1 sound on both versions
"Frank Oz and Little Shop of Horrors: The Director's Cut," an introduction by Frank Oz with Richard Conway
"A Story of Little Shop of Horrors" (behind-the-scenes documentary)
Outtakes and deleted scenes with optional commentary
Two theatrical trailers
Little Shop of Horrors will hit Blu-ray on October 9th, with a list price of $34.99. There will also be a basic DVD version available.
Your Daily Blend of Entertainment News