Logan's Run Remake Resurrected With BioShock Creator Writing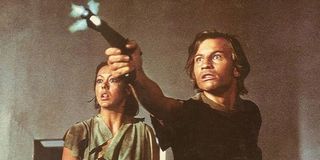 Ken Levine is best known to gamers as the creator of the award-winning video game BioShock. The game, which is set in a dystopian city called Rapture, helped Levine get named one of Game Informer's Storytellers of the Decade. And now that celebrated storyteller is taking his craft to Hollywood. Hitflix reports the creative director of Boston-based Irrational Games has been hired by Warner Bros to pen the script for their long-in-the-works remake of Logan's Run.
Based on a sci-fi novel of the same name, the original Logan's Run starred Michael York as the titular hero, who lives in a seemingly perfect society…as long as you're under the age of 30. Set in the 23rd century within a domed city, Logan's life as a cop is flush with thrills, as this society happily caters to the whims of its people. But when a resident hits 30 they are to be slaughtered, and if they refuse are deemed a criminal or "runner." It's Logan's job to catch these would-be escapees—until he turns 30 and becomes one of them. You can get a feel for the feature by checking out its trailer below:
Levine admits Logan's Run--both the book and the first film—were hugely influential on him as a child and in creating BioShock. But as much as he admires the source material, he is quick to note there are some things he'd change. He explains:
This seems a great fit for Levine's sensibilities, and a dream come true for him. Not only does he love the original movie and book, but before he tore into the gaming industry, Levine had tried his hand at being a screenwriter in Los Angeles. Still, he's not planning to abandon gaming. "I have no illusions about how things work in Hollywood," he says. ''I'm in a different place in the film industry than I am in the game industry. I worked very long and hard to get to where I am in games. People put a lot of faith in me. That's not really the case in film."
It's unknown if Levine will be working from a previously drafted script or starting fresh. Either is possible as Warner Bros has been attempting to mount a remake Logan's Run for a decade. Following the success of X-Men and X2, Bryan Singer was set to direct the remake, but walked away in 2006. Before he made 47 Ronin his feature directorial debut, Carl Rinsch was considered to helm, but he also got bumped out, along with Robert Schwentke (R.I.P.D) and Joseph Kosinski (Tron: Legacy). In 2011, Logan's Run had renewed hope when Nicolas Winding Refn signed on with his Drive star Ryan Gosling attached for the lead. But last fall Gosling dropped out, and presumably so had Refn, as no mention is made of him in this latest update. At present there is no director attached.
Decide for yourself if Levine is a good fit for this project after watching a trailer for Bioshock:
Staff writer at CinemaBlend.
Your Daily Blend of Entertainment News
Thank you for signing up to CinemaBlend. You will receive a verification email shortly.
There was a problem. Please refresh the page and try again.