Ryan Gosling Drops Logan's Run Remake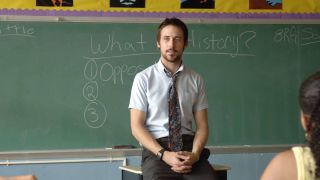 (Image credit: THINKFilm)
After bonding hard on the stylish neo-noir film Drive, Ryan Gosling and Nicolas Winding Refn seemed all set to revive their bromance on not one but two more movies, with plans to make both the Thai-boxing thriller Only God Forgives and the big studio remake of Logan's Run, which was set up at Warner Bros. But with Only God Forgives almost completed, that second reunion seems to have been scrapped.
Here's the news, a tweet from Variety's Justin Kroll:
There's no more reason given, but Gosling-- as you would expect for an up-and-coming star-- has a pretty busy schedule ahead of him. He's planning a spring start date for his directorial debut, a fantasy noir that will star his Drive co-star Christina Hendricks (more famous as Joan on Mad Men), and he's also been eyed by his Crazy, Stupid, Love directors to reunite with his co-star Emma Stone in their next film. All that on top of January promotional duties for Gangster Squad, and you can see how Gosling is simply running out of time.
On top of all that, Logan's Run always seemed like an odd choice for Gosling. Yes, a remake of a 70s science fiction property can totally work, as proven by last year's Rise of the Planet of the Apes, but Gosling has seemed pretty committed to forging his own, unconventional path through Hollywood; he hasn't made a big, traditional action thriller yet, so why would he start now that he's a big star? Hopefully he and Winding Refn are still pals and will find something to reunite on, but right now I don't mind seeing Gosling slip away from this one.
(Winding Refn and Gosling image via Jaguar PS / Shutterstock.com)
Your Daily Blend of Entertainment News
Staff Writer at CinemaBlend