London Has Fallen Trailer Is Explosive And Foreboding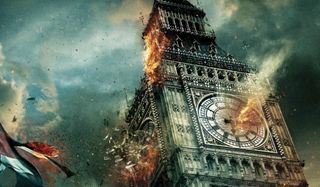 There's a bridge, a bridge in London…and it's falling down! If you thought the explosive action of Olympus Has Fallen was over, the first London Has Fallen trailer has arrived to remind us all that the fiery theatrics are moving overseas. By the looks of the footage, the returning characters, Secret Service agent Mike Banning and POTUS, are second tier players. The real focus is all the exploding going on. Watch it below.
Just about everything director Babak Najafi could blow up does blow up in the London Has Fallen trailer, which Lionsgate released Wednesday morning. After directing a couple episodes of Banshee, he's pulling an Emmerich with this one. After saving the President from total annihilation, Gerard Butler returns as Banning to accompany his charge to London. As the story goes, the British Prime Minister has passed away under very mysterious circumstances, and his funeral is the must-attend event of the season. All of the western world's leaders are flocking to London to attend, including POTUS (Aaron Eckhart), and that's what the real villains have been waiting for. Though this should be one of the most protected events of all-time, it quickly turns into a deadly plot to kill off these leaders, while destroying as much of London as possible.
As typically happens with this kind of movie, only three people are capable of foiling this plan, and two of them we've already met. The other is an MI-6 agent (no, not James Bond) who trusts no one. Actress Charlotte Riley of Edge of Tomorrow and Peaky Blinders fills that role, and she's joined by other returning cast members Morgan Freeman, Robert Forster, Sean O'Bryan and Radha Mitchell, along with franchise newcomers Jackie Earle Haley, Alon Aboutboul and Waleed Zuaiter. The London Has Fallen trailer is merely a brief tease of what's to come. Though, it's clear where the focus lies: big action and, hopefully, big pay offs. We've already seen some posters for the film, and, once again, the concept was pushed more than the characters.
Olympus Has Fallen was released in theaters in March of 2013 and went on to gross $161 million worldwide. Should the sequel garner the same box-office numbers, we could be looking at a continuing franchise of international proportions. The next thing you know, we might be seeing Berlin Has Fallen (the logline could be "The second fall of the Berline wall") or Paris Has Fallen (you know you wanna see the Eiffel Tower come down). However, Antoine Fuqua was the one who helmed the first film, and we have yet to determine whether Najafi can successfully put his own spin on this next chapter.
London Has Fallen will open in theaters on January 22, 2016.
Your Daily Blend of Entertainment News
Thank you for signing up to CinemaBlend. You will receive a verification email shortly.
There was a problem. Please refresh the page and try again.