The Lone Ranger Close To Finally Finishing Production After 140 Day Shoot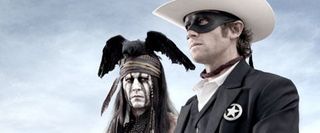 Executive producer Jerry Bruckheimer's ambitious re-invention of The Lone Ranger has hit just about every hurdle you can imagine. First, production was stalled indefinitely until the producers could slash the budget. Having cut about $35 million from the project, the film went into production, but hit repeated delays due to inclement weather that damaged custom-made sets, demanding time for repairs. As the production dragged on, producers pushed director Gore Verbinski to cut more from the action-packed script. The project's prospects were grim when the tragic news hit that a crewmember had died on its Los Angeles set.
And that brings us to today, where The Lone Ranger has now been in production for at least 140 days. In June when we recounted many of the delays above had ballooned the film's budget back to the $250 million range, production was expected to wrap by the end of August. Now, THR reports the principal photography portion of the shoot may at last draw to a close in September. At this point, it's unknown how big the budget has bloated or what shape the film that reteams Pirates of the Caribbean's director and star, Gore Verbinski and Johnny Depp respectively, is in.
To give some perspective to reports that The Lone Ranger shoot will ultimately clock in at 140-150 days, consider that the plagued production of Steven Spielberg's Jaws took 116 days, and filming of the entirety of Peter Jackson's Lord of the Rings trilogy took 274 days. While both of these films are regarded as modern classics, this lengthy production time will likely be taken into consideration with the rest of The Lone Rangers' production problems, thereby dampening enthusiasm for the seemingly cursed feature.
With its final budget unknown it's difficult to guess how much The Lone Ranger will have to earn at the box office to break even as early estimates projected that--accounting for the additional costs of print and advertising--$800 million worldwide would be required if the project came in at $250 mil. But simply put, it will need to be one of the biggest hits of 2013 to not be a bomb.
Staff writer at CinemaBlend.
Your Daily Blend of Entertainment News
Thank you for signing up to CinemaBlend. You will receive a verification email shortly.
There was a problem. Please refresh the page and try again.