The Lone Ranger's Failure May Have Cut The Pirates Of The Caribbean 5 Budget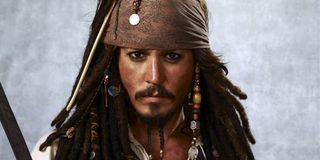 Sure, The Lone Ranger is now a famous flop, but Johnny Depp is still a slam-dunk when starring in a Pirates movie…. right? Probably, but Disney still isn't going to take their chances as they gear up for the inevitable Pirates 5. According to The Wrap, as Disney reels from the estimated $150 million they lost on The Lone Ranger, they're tinkering with producer Jerry Bruckheimer's role on Pirates 5, talking about limiting the film's budget and, most shockingly, denying him final cut.
Director Gore Verbinski may have ostensibly been the man behind the camera on the first three mega-hit Pirates movies (and Rob Marshall on the fourth), but producer Bruckheimer-- who got his start back in the 80s with hits like Beverly Hills Cop and Flashdance-- was always the muscle. But what seemed like a limitless string of hits for Bruckheimer slowed down well before The Lone Ranger, with The Sorcerer's Apprentice and Prince of Persia marking two expensive flops in a row before the fourth Pirates came back to revive him. The last-minute budget cuts on The Lone Ranger still didn't keep that film from losing the studio money, but it seems to be serving as an example for Pirates 5, which will now have a budget somewhere in the $200 million range as opposed to the $250 originally planned. Yes, I know that's still an insane amount of money to spend on Johnny Depp's eyeliner budget.
On board to direct Pirates 5 are Joachim Ronning and Espen Sandberg, the Norwegian directors of Kon-Tiki, a seafaring movie made on a very low budget. Their choice for the gig seems all the more significant now, and they scrappy up-and-comers may wind up teaching Bruckheimer something about slashing costs-- though $200 million will still be way more money than the two have ever worked with before. Talk on the film has been quiet since those two were hired earlier this summer-- nobody likely wants the Lone Ranger comparison-- but The Wrap says that Disney is currently making plans to shoot interiors in New Orleans, and a July 10, 2015 release date has been marked off. Can Bruckheimer tighten the purse strings and make another hit with this one? Or is trying to save himself by reviving a decade-old franchise just going to dig him further down? Sound off in the comments.
If you need to jog your memory on where things left off in Pirates of the Caribbean: On Stranger Tides-- spoiler: you didn't miss much-- here's that film's trailer.
Your Daily Blend of Entertainment News
Staff Writer at CinemaBlend