The Long-Term Plan For Superman, According To Henry Cavill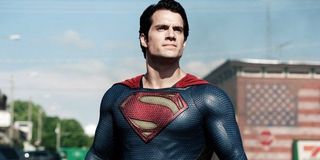 As we stand less than a year away from what could be the definitive comic book showdown with Batman v Superman: Dawn of Justice, Superman himself, Henry Cavill, wants you to know that the face-off/team-up epic is NOT a sequel to Man of Steel. In fact, he reveals that the long-term vision for the Kryptonian could depend on how Warner Bros. readies the rollout of its cinematic universe.
In an interview with EW, Cavill discusses why the success of his dynamically destructive debut in the 2013 Superman relaunch has yet to even yield plans for a proper solo sequel. It seems that the road-map for the DC cinematic universe that Man of Steel launched will first shift attention to establishing other heroes in the lineup, such as Ben Affleck's Batman, Ezra Miller's The Flash, Gal Gadot's Wonder Woman, and Jason Momoa's Aquaman. According to Cavill:
The "darker vigilante" to which Cavill refers in Ben Affleck's Batman will certainly provide a brooding, pathologically gloomy foil in his reprisal as Superman. Yet, the duo's juxtaposition will hardly reflect a stark polarity, given the way that director, Zack Snyder, approached Man of Steel, notably with the help of the auteur of intrigue behind The Dark Knight trilogy, Christopher Nolan, who co-wrote the script and served as producer. The intention was to craft a version of Superman who, while brandishing God-like powers, was stricken with ambivalence about his purpose and plagued with existential crises. For the most part, the film was successful in this respect, which may have also left a void regarding the next step.
Cavill's comments indicate that, having served as the launching pad for Warner's DC Comics cinematic universe, Superman's further development as a character might be better served with a more established backdrop of a world in which several other super-powered heroes have emerged. While Man of Steel was effective in illustrating the motivations of this new Superman, it may be Warner's intention to further shape his character against the sharpening stone of the future members of the cinematic crossover, Justice League, rather than furthering the narrative of the super-powered loner we met in the initial film.
Solidifying this idea, Cavill also described Dawn of Justice as "more of an introduction to Batman, an opening to Justice League." Based on what we've seen of the film, it's clear that Dawn of Justice will explore the destructive implications that Man of Steel depicted in its more pathos-heavy approach to its brooding Blue Bomber.
That colossal collision of comic icons occurs when Batman v Superman: Dawn of Justice hits theaters on March 25, 2016. However, whether or not we'll get to see Henry Cavill's Superman fly solo again will clearly depend on how well Warner and DC can solidify their cinematic superhero lineup.
Your Daily Blend of Entertainment News