Louis C.K. Thanks Pootie Tang's Failure For His Current Success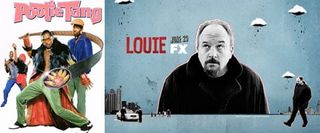 Now that Louis C.K.' is flying high with his hit eponymous sitcom Louie, the self-deprecating stand-up has admitted he'd never be the success he is today if it weren't for his greatest failure: Pootie Tang. Remember Pootie Tang? The 2001 Blaxploitation spoof co-starred Chris Rock and Lance Crouther with special appearances by Wanda Sykes, Jennifer Coolidge, and Dave Attell, yet failed to attract audiences or amuse critics. It was a box office flop that the Hollywood Reporter described thusly:
This was written and directed by Louis C.K.
Or more aptly, Louis C.K. was credited, even after being essentially fired from the flick. He recently revealed during Louie's session with the Television Critics Association (via Deadline), "That experience was very painful, I was sucking at making the movie and got fired off of it, and they put my name on it anyway." He has talked about this before, saying, "By the time it was finished, I was disgusted with the whole thing. And I was also a pariah. I was not hirable as a director. It ruined my filmmaking career. A good example of that is I haven't been hired as a director since then."
But since then, C.K. seems to have turned a corner on the comedy that nearly killed his career, saying in a surprisingly upbeat statement:
Louie fans are sure to see the parallels here, as much of the humor from the blistering and dark comedy series comes from C.K.'s day-to-day failures and anxieties in areas that include his hit-and-miss career, his struggles as a single parent, and his woeful romantic life. When it comes to inspiration for the show, C.K. sees his personal failures as "incredibly valuable."
C.K. has blamed part of the problem with the poorly realized Pootie Tang on Paramount's resistance to let him cut the movie he'd written and envisioned. So, when it came to negotiations with FX on Louie, the once burned comedian stood firm to his my way or the highway demands, despite having a terrible TV track record that included the short-lived 2006 sitcom Lucky Louie "If I was FX, I wouldn't have given me what they gave me," C.K. admits, meaning total artistic control over Louie. His thought process on the hardline negotiations boiled down to:
Fans concerned that C.K.'s newfound success might spoil the comedy of their favorite curmudgeon need not worry, as C.K.'s found a new demon to tackle: insecurity and fear of failure. While he's confident season two was better and "richer" than season one, he frets, "there is still a decline coming," confessing, "I'm terrified that Season 3 won''t be as good as Season 2. I'm not sleeping very well right now, I still have a lot to keep me depressed."
And so Louie fans rejoiced!
Staff writer at CinemaBlend.
Your Daily Blend of Entertainment News
Thank you for signing up to CinemaBlend. You will receive a verification email shortly.
There was a problem. Please refresh the page and try again.