Magic Mike XXL Gets A X-Rated Period Trailer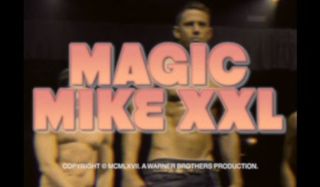 Magic Mike XXL is now only days away from hitting cinemas. To celebrate the film's impending release, the erotic adventure of Channing Tatum's titular dreamer has been re-imagined as a 70s X-Rated flick, and it really is everything for which you could have hoped. You can take in this unique homage to this fallen genre in all of its glory below.
Now, if that doesn't immediately get you interested in Magic Mike XXL then I don't think anything will. With its thudding bass, scratchy visuals and creepy narrator, there's a lot to thank Vulture for.
There was certainly a Boogie Nights vibe to the entire clip. In fact, you could easily imagine Burt Reynolds' Jack Horner behind the camera barking directions to Channing Tatum, much in the same way that his character did to Mark Wahlberg's Dirk Diggler in Paul Thomas Anderson's 1997 masterpiece.
The raunchy "fake" trailer for Magic Mike XXL also unveils a hoard of impressive new nicknames for the film's ensemble, while it even calls Channing Tatum "a legendary adult performer." I'm sure there are many men and women around the world who would cut off their right hand and foot to make that true. Just after teasing that Tatum has made an explicit change in his career path, the trailer re-names Donald Glover "Dong Lover," Matt Bomer "Boom-Boom Bomer," Joe Manganiello "Joe Man-Meat," and Gabriel Igelcias as pornographic legend, "Fluffy,"
It also gives us a great glimpse of the muscle-bound cast's impressive abs, pecks, and all round handsomeness. In fact, it even ends on a rather tantalising shot of Channing Tatum's midriff.
Set three years after the events seen in 2012's Magic Mike, Magic Mike XXL sees Channing Tatum's titular character returning to the stripping game. This time he gathers together the remaining strippers from Kings Of Tampa and they then go on a road-trip down to Myrtle Beach where they plan to put on one last terrific performance.
While Steven Soderbergh isn't directing this time around, the Oscar-winning filmmaker is still involved as both the cinematographer and editor. Gregory Jacobs, Soderbergh's long-time first assistant director, has made the step-up to helm the project. Early reviews for Magic Mike XXL have been relatively positive without being overwhelming. But since the movie was made on a fairly tight budget of just $14.5 million, it should make its money back without an issue. Look for it in cinemas tomorrow, July 1st.
Your Daily Blend of Entertainment News
Thank you for signing up to CinemaBlend. You will receive a verification email shortly.
There was a problem. Please refresh the page and try again.