Ant-Man And The Wasp: Quantumania Continues A Bad Trend At The Box Office For The Marvel Cinematic Universe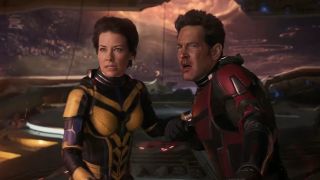 (Image credit: Marvel Studios)
Last Sunday, there were a number of positives to be found in the opening weekend box office performance of Peyton Reed's Ant-Man And The Wasp: Quantumania. The Marvel blockbuster notably didn't get the kind of critical reception that films in the franchise typically do, but it still managed to be the 31st straight MCU title to open at #1, and it became the first title in the Ant-Man series to bring in over $100 million domestically in three days.
Cut to one week later, the tone in the conversation has definitely shifted, as the Marvel sequel just experienced the worst second weekend drop in the MCU.
Check out the full Top 10 in the chart below, and join me after for analysis.
Swipe to scroll horizontally
| TITLE | WEEKEND GROSS | DOMESTIC GROSS | LW | THTRS |
| --- | --- | --- | --- | --- |
| 1. Ant-Man And The Wasp: Quantumania | $32,200,000 | $167,314,584 | 1 | 4,345 |
| 2. Cocaine Bear* | $23,040,000 | $23,040,000 | N/A | 3,534 |
| 3. Jesus Revolution* | $15,525,000 | $15,525,000 | N/A | 2,475 |
| 4. Avatar: The Way Of Water | $4,700,000 | $665,383,862 | 2 | 2,495 |
| 5. Puss In Boots: The Last Wish | $3,370,000 | $172,681,065 | 4 | 2,840 |
| 6. Magic Mike's Last Dance | $3,000,000 | $23,279,590 | 3 | 2,918 |
| 7. Knock At The Cabin | $1,870,000 | $33,903,205 | 5 | 2,115 |
| 8. 80 For Brady | $1,830,000 | $36,447,000 | 6 | 2,397 |
| 9. M3GAN | $580,000 | $94,536,965 | 11 | 738 |
| 10. Titanic (25th Anniversary) | $543,000 | $673,693,000 | 7 | 953 |
Ant-Man And The Wasp: Quantumania Suffers A 70 Percent Weekend-To-Weekend Drop
In last week's box office column, I pointed out that Marvel has been developing a bad second weekend problem ever since the launch of what has been dubbed The Multiverse Saga. While MCU movies previously demonstrated solid legs if the aftermaths of their big screen debuts, the average weekend-to-weekend percentage drop has gone up a scary nine percent compared to what the franchise accomplished in its first 11 years launching hit after hit. Not only has Ant-Man And The Wasp: Quantumania added to this trend, but it's also set an unfortunate new record.
Cate Shortland's Black Widow (68 percent), Chloé Zhao's Eternals (62 percent), Jon Watts' Spider-Man: No Way Home (67 percent), Sam Raimi's Doctor Strange In The Multiverse Of Madness (67 percent), Taika Waititi's Thor: Love And Thunder (68 percent), and Ryan Coogler's Black Panther: Wakanda Forever (63 percent) all saw big drops in their earnings after their opening weekends, but Ant-Man And The Wasp: Quantumania has set a new low bar by being the first MCU film to drop 70 percent in its sophomore Friday-to-Sunday. (It's worth noting that Destin Daniel Cretton's Shang-Chi And The Legend Of The Ten Rings is the one exception to the 60 percent-plus trend, as it only dropped 54 percent in September 2021.)
To put its numbers in a bit more context, the new comic book movie only made about $3.1 million more than what Peyton Reed's Ant-Man And The Wasp made in its second weekend back in 2018, and that's despite the 2023 release making $30.3 million more than its predecessor in its first three days.
There are obviously a lot of factors to account for when analyzing any film's performance in its second weekend – such as new release competition and the shrinking in theaters-to-streaming windows since the start of the pandemic – but in this particular case, it's hard not to consider the influence of buzz and word of mouth (or lack thereof). Looking at opening weekend numbers, it's clear that Marvel fans were excited to see the big screen debut of Jonathan Majors' Kang The Conqueror, the franchise's new, heavily promoted, Thanos-level big bad, but one has to wonder if the 48 percent score on Rotten Tomatoes and underwhelming "B" grade on CinemaScore had an impact on movie-goers on the fence about whether or not to go to the theaters or simply wait a few weeks and make use of Disney+ subscriptions.
Despite the issues that Ant-Man And The Wasp: Quantumania is having domestically, it still appears that the film is going to be profitable for Marvel Studios. To go with the $167.3 million that the movie has made in the United States and Canada to date, the film, according to The Numbers, has brought in $196.3 million from foreign markets – bringing its global total to date to $363.6 million. With the reported budget for the blockbuster being $200 million (per IndieWire), not including publicity and marketing costs, the film may not quite be in the black just yet, but analysts are certainly not going to be able to call it a flop.
It will be interesting to see how or if these developments with Ant-Man And The Wasp: Quantumania will end up affecting the future box office outlook of the Marvel Cinematic Universe. Needless to say, there is going to be some extra eyes and particular scrutiny in play when James Gunn's Guardians of the Galaxy Vol. 3 arrives in theaters the first weekend of May.
Cocaine Bear Is Off To A Solid Start But Didn't Quite Put Up M3GAN Numbers
Earlier I mentioned competition as a contributing factor to a film's second weekend at the box office, and it is worth noting that Ant-Man And The Wasp: Quantumania did have a fight on its hands going toe-to-toe with Elizabeth Banks' Cocaine Bear the last three days. The inspired-by-a-true-story horror comedy earned a great deal of buzz following the premiere of its trailer last fall, and about three months later that has translated to a solid debut.
Analysts have drawn comparisons between Cocaine Bear and Gerard Johnstone's M3GAN – the films being non-sequel/non-adaptations with outrageous premises released by Universal Pictures – and while the new release didn't do quite as well as the PG-13 killer doll movie, the numbers are comparable. Opening in second place behind James Cameron's Avatar: The Way Of Water, M3GAN made $30.4 million when it debuted in mid-January, and Cocaine Bear came up just short of that with an estimated $23.1 million. That's solid when one takes into consideration that the latter cost only between $30-35 million to make (according to Deadline) and sports a more profit restrictive R-rating.
The best thing of all? Between Cocaine Bear, M3GAN, M. Night Shyamalan's Knock At The Cabin, and Tommy Wirkola's Violent Night, Universal Pictures has spent the last three months making hits out of non-franchise titles, and it's a great thing to see in the current landscape of Hollywood.
With the start of March this week, the box office is going to continue delivering plenty of excitement for movie-goers – starting with Michael B. Jordan's Creed III and Guy Ritchie's Operation Fortune: Ruse de Guerre. Be sure to head back to CinemaBlend next Sunday to see what kind of shakeups happen in the Top 10, and take a look at our 2023 Movie Release Calendar to discover all of the titles heading to theaters in the coming weeks and months.
Your Daily Blend of Entertainment News
Assistant Managing Editor
NJ native who calls LA home and lives in a Dreamatorium. A decade-plus CinemaBlend veteran who is endlessly enthusiastic about the career he's dreamt of since seventh grade.