Marisa Tomei And Liv Tyler Are Creepy Neighbors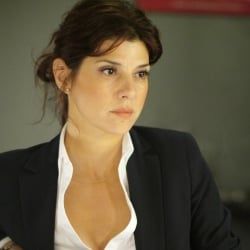 Why has no one ever thought of this pairing before? Liv Tyler and Marisa Tomei, both brunette actresses with solid careers behind them, are teaming up for Chul-soo Park's psychological thriller 10A/10B, and it sounds like a perfect match. Not that the movie is necessarily guaranteed to be great, especially since it's the first English-language film for South Korean Park. But it's about time two actresses got to be the stars of a thriller, rather than teenage girls or some man stealing all the attention.
Park will be making the film as a remake of his own 1995 Korean film, 301/302. I'm assuming they've changed the title so that no one thinks it's somehow two combined sequels to 300, though I would love to see the confused comic book fans wandering into this one. Variety doesn't say who will be adapting the script, but I imagine there will be a lot of studio tinkering going on. If it gives better parts for Tomei and Tyler, though, I'm all for it.
Staff Writer at CinemaBlend
Your Daily Blend of Entertainment News
Thank you for signing up to CinemaBlend. You will receive a verification email shortly.
There was a problem. Please refresh the page and try again.