Mark Hamill Talks Dark Knight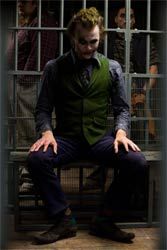 Chis Nolan's Dark Knight has already garnered acclaim from some of the toughest audience members they'll find – former notable Batman contributors, including Paul Dini (Batman: The Animated Series) and Jeph Loeb (Batman: The Long Halloween). And their positive reactions were just from the trailer! Still, Tim Burton's Joker, Jack Nicholson, didn't exactly have positive things to say, so what about another Joker?
Although he's best known as Star Wars's Luke Skywalker, actor Mark Hamill played the Joker for over a decade in a run of animated series. In fact, Hamill's portrayal of the Joker was more accepted as the definitive approach to the character than Nicholson's. So what does Hamill have to say about the first look at Heath Ledger's Crown Prince of Crime?
"The balls-out debauched psycho approach seems like a great way of reinventing everyone's favorite scary (and scar-y) clown," Hamill told MTV's Movies Blog "Can't wait to see it!"
While Hamill recognizes that Ledger and Nolan's approach to the character isn't that mix of psychotic, mania that the Animated Series had, he still acknowledges the merit Nolan's approach has. "For all those fans that dreamed of an adult approach to the material, 'Batman Begins' got nearly everything right. I have no doubt this one will be just as good or better."
Personally, as much as I enjoyed Burton's gothic approach in Batman, Nicholson never rang as true as the character as Hamill's animated version. I'm glad to hear he's as excited about the upcoming Dark Knight as the rest of us are… well, everyone except Jack Nicholson.
Your Daily Blend of Entertainment News