Is Martin Scorsese Considering A One Direction Movie?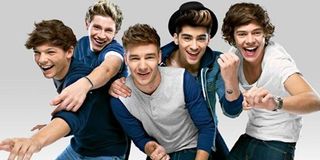 Right now Martin Scorsese is gaining tons of attention--both positive and negative--for his controversial biopic The Wolf of Wall Street. Since its release, critics and movie lovers have been battling it out online whether the film is glorifying the drug-fueled debauchery of sleazy stockbroker Jordan Belfort or if the comedy is a scathing satire of an American culture that holds up such figures. Whatever your opinion on his latest crime caper, you got to give credit that even at 71-years-old Scorsese is a filmmaker who still know how to surprise us. And surprise us he has with a rumor that suggests he might make a One Direction movie.
New York Daily News (via Entertainmentwise) has posed the possibility, pointing out that their insiders say Scorsese is a big fan of the British boy band made up one Harry Styles, Niall Horan, Zayn Malik, Liam Payne and Louis Tomlinson. His daughter Francesca introduced the Academy Award-winning director to the boy band by giving him the gift of one of their albums; unfortunately, which album is currently unknown. But the Daily News' source says, "Martin is very passionate and enthused about the music of One Direction.''
As you can see from this concert vid, he's not alone:
While Scorsese is best known for helming gangster dramas like Goodfellas, The Departed and Casino, he has also served as director for music acts he admired. Notably, he directed a documentary about the life of former Beatle George Harrison called George Harrison: Living In the Material World, as well as the career-spanning concert doc of the Rolling Stones Shine A Light.
Plus, he makes an uncredited appearance in One Direction's first movie, This is Us, which was directed by documentarian bad boy Morgan Spurlock. So is it really so crazy to imagine that the celebrated Scorsese might dovetail for his appreciation for One Direction into his love of making the occasional music doc? Not really. Unlikely, sure, but it's not impossible. Still far more likely is that Scorsese could helm a music video for the group. It's a lesser time investment and could be a bit more fun. After all, look what he did with Michael Jackson for "Bad," which featured a young Wesley Snipes as a thug hassling the leather-clad pop star:
With the appreciation for movies One Direction has shown, such a pairing could be pretty spectacular.
Staff writer at CinemaBlend.
Your Daily Blend of Entertainment News
Thank you for signing up to CinemaBlend. You will receive a verification email shortly.
There was a problem. Please refresh the page and try again.