Martin Scorsese Enjoys The Silence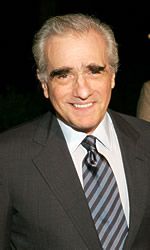 The world's favorite bushy-eyebrowed director has a highly touted project coming out on October 6th, a little flick called The Departed. And yes, it's starring Leo Dicaprio, his dearly beloved new muse. According to Production Weekly, Scorsese has another movie lined up to direct, and it seems unlikely that the Titanic pretty-boy will find a place in it.
Next up, Marty will direct the movie Silence, an adaptation of the novel by Japanese author Shusaku Endo. The story is set in sixteenth century Japan and deals with Japanese feudal lords, the persecution of Christians, the torturing of priests, and dangerous journeys. Scorsese wrote the first draft of the screenplay with Jay Cocks around 10 years ago, so this movie has been a long-time coming, to say the least.
Shooting is likely to begin in Vancouver next summer.
Your Daily Blend of Entertainment News