Matthew McConaughey As Magnum P.I.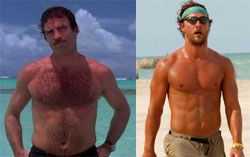 Just when we were ready to resign it to the depths of development hell, the long rumored Magnum P.I. movie is apparently back to being rumored. Our friends over at FilmRot have picked up a rumor from Teletext UK which says that not only is the movie ready to go, but they've locked up a cast as well.
They say it's been handed over to Dodgeball director Rawson Marshall Thurber, who has finished his redraft of the script adaptation of the classic 'Magnum P.I.' television show which made Tom Selleck and his glorious mustache famous. Sadly, Selleck will not return to playing Thomas Magnum. Instead, the word is that good old boy Matthew McConaughey has the part, with Steve Zahn as his friend Rick, Tyrese Gibson as chopper flying T.C., and William H. Macy as his British landlord Higgins. They're sticking with the idea of Magnum and his friends being war veterans, but since so much time has passed now they're veterans of the Iraq war.
If any of this is true, it's kind of a shock. We haven't heard anything about the project in months and now it just drops out of nowhere neatly packaged with a little bow on top.
I love the idea of William H. Macy as Higgins, as long as he plays the character as British and it doesn't really matter who they get to play Rick and T.C. Zah and Gibson work. But I'm not sure what to think of Matthew McConaughey as Magnum. Can the guy grow a great mustache? How does he look in a Hawaiian shirt and a pair of short-shorts? Most of all, can he ditch the folksy southern accent? Thomas Magnum is not a hick.
Your Daily Blend of Entertainment News
Thank you for signing up to CinemaBlend. You will receive a verification email shortly.
There was a problem. Please refresh the page and try again.