Matthew Perry Chooses Depression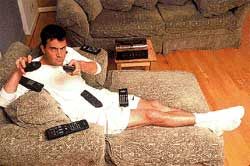 There was a time when I would have claimed that Matthew Perry was the only really talented "Friends" cast member, and was thus the only one destined for stardom after the show ended. Of course I forgot one really important factor: Jennifer Anniston is hella pretty.
Perry's career post-Friends hasn't exactly skyrocketed. His past addictions to pills and constant weight fluctuations probably haven't helped, nor has his choice in movies. Matthew hasn't been bad, but the movies he's been in have been. The Whole Nine Yards is the only real positive on his resume, and even that was nullified by its horrible sequel, The Whole Ten Yards.
But the funniest "Friend" is going to try again. Reuters says he's signed up for a new movie, his first since the aforementioned 2004 Yards sequel. The movie is Numb, and instead of another Hollywood formulaic disaster this one supposed to be a dark comedy.
The former Bing will play an unstable screenwriter with a "depersonalization disorder". Don't know what that is? The official press release describes it as an alienating condition akin to an extreme depression. It's so bad, by comparison it makes depressed people look quirky. The super-depressed writer falls for a girl, but since he's such a downer he can't get her. To win her heart, he puts himself through every kind of therapy available to fix his downer problem and earn her love.
Now you're probably thinking that dark comedy is a good place for Perry's naturally bitter, satirical delivery to shine. I'd agree, except the movie is being written by Harris Goldberg, who had a hand in writing and producing Deuce Bigalow: Male Gigolo and the truly horrible, career ending Dana Carvey vehicle Master of Disguise. In the hands of a many like that, there may be another failure in store for the sadly underrated Matthew Perry.
Your Daily Blend of Entertainment News