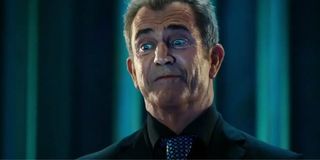 Mel Gibson is back! Maybe! Possibly! Gibson's had a pretty bad decade, all things considered. Ten years ago, he set the industry aflame with The Passion of The Christ, and it's been downhill since. Now the guy's basically un-hirable, and no one wants to work with him. Can he turn it around with a collaboration with a filmmaker from abroad? Wouldn't it be best if, like other actors, he could just get a Taken?
Gibson is in talks to star in the awesomely-titled Blood Father, according to Deadline. Gibson would play an ex-con who tries to protect his 16 year old daughter from drug dealers. That's some seedy offspring there, Mad Max! The script comes from Peter Craig, who previously wrote The Town, and it is coming together fast.
The man behind the camera is Jean-Francois Richet, who is well-known on a global level for the two-part Mesrine films. Those French epics detail the true story of Jacques Mesrine, a sexy and charismatic criminal played by Vincent Cassel. But American audiences might know him from the remake of Assault On Precinct 13, which is primarily remembered today for the sheer amount of headshots found within. Seriously, they should have avoided upsetting John Carpenter purists and just called it Headshot-A-Paloosa. Or The Strange Case Of The Suddenly-Headless Corrupt Cops. Something like that.
Gibson, once one of the world's biggest box office draws, has not necessarily been in-demand at all lately. Edge Of Darkness was his last big starring role, and it pulled in a so-so $81 million worldwide. But a follow-up, the Black List-approved The Beaver, didn't even gross a million, and the action picture Get The Gringo was ultimately barely released, going straight-to-DirectTV. He's now been lowered to being stunt-casted in Machete Kills and The Expendables 3: the former was barely seen, and the latter is being downplayed even though years ago people would have jumped to see Gibson and Harrison Ford onscreen with Sylvester Stallone and Arnold Schwarzenegger.
Of course, Gibson's got some serious issues on his own to work out, and his likability is down the drain, especially with female audiences. But he's always been an intriguing, entertaining presence onscreen, and in the right vehicle, people could conceivably forget the baggage and admit there was a reason he was once one of the planet's most beloved actors. And hey, he was pretty fun in Get The Gringo! Check out the trailer below.
Your Daily Blend of Entertainment News