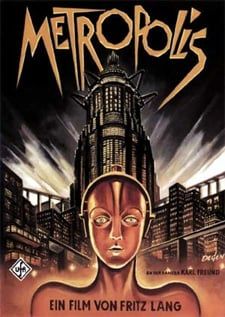 One of the most classic and iconic science fiction films of all time is about to get the extended director's cut treatment. Fritz Lang's Metropolis may soon be restored to the director's original version with a recent museum find: a print of the movie that contains long-lost footage of the movie.
The story of Metropolis isn't that different from today's movies. Fritz Lang's movie opened in 1927 to a dismal response. Since the film was the most expensive movie to date, the studio needed to recoup its losses, so it recut the film, removing almost a quarter of Lang's vision and simplifying the storylines. Unfortunately, the footage the studio cut out was lost and the reduced cut of the film is what film lovers and historians have known since.
Obviously, a copy of Fritz Lang's original cut of Metropolis has been a sort of holy grail for movie lovers, but I don't think many ever expected to see it. Zeit Magazine Online reports the found cut of the movie has been confirmed by three film experts, leading to an excitement that the movie can now be seen with a new understanding and interpretation. Plans are already underway to restore the newly found footage. Considering a remastered cut of the movie a few years ago led to a short theatrical run for Metropolis, I would expect this newly found edition to give the classic flick another shot at being seen on the big screen.
Your Daily Blend of Entertainment News
Thank you for signing up to CinemaBlend. You will receive a verification email shortly.
There was a problem. Please refresh the page and try again.