Mickey Rourke Calls Martin McDonagh A Jerk-Off, Won't Be In Seven Psychopaths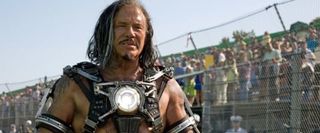 Martin McDonagh is an award-winning playwright and filmmaker whose first short film, Six Shooter, won him an Oscar and whose first feature, In Bruges, got him a Best Original Screenplay nomination. But if you ask Mickey Rourke, McDonagh is nothing but "a jerk-off" who "wanted a whole lot for nothing" and who "can go play with himself.
Yes, it's apparently a battle of the words between former Oscar nominees, as Rourke mouthed off to Moviefone when asked about what was supposed to be his next role, in McDonagh's new film Seven Psychopaths. Last month we reported that Rourke had turned down a role in The Expendables 2 in order to take part in Psychopaths, which also includes Colin Farrell, Christopher Walken and Sam Rockwell in the cast. It's hard to know exactly what happened to cause that bad blood between Rourke and McDonagh, or if Rourke even made it to the set, but my guess would be McDonagh would have some equally strong words to say about Rourke.
Collider snagged a synopsis of Seven Pscyhopaths at the American Film Market, and Rourke isn't even mentioned, which suggests the split happened a while back. With Rockwell, Walken and Farrell all being McDonagh veterans, and tough guys more than capable of what's describe as "a blood-drenched, black comedy," there should be a lot of goodness coming out of this movie even without Rourke. Take a look at the synopsis below and let us know if you think you'll miss him.
Your Daily Blend of Entertainment News
Staff Writer at CinemaBlend