Mix Up A Batch Of Sam Raimi's Recipe for Fake Blood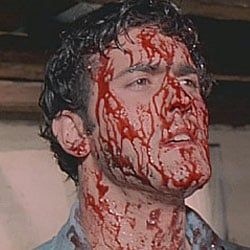 This should make any Evil Dead fan's day. The "recipe" for the fake blood used in The Evil Dead has popped up on Movie Miscellany, taken from Bruce Campbell's autobiography If Chins Could Kill, and it sounds surprisingly doable. The ingredients are easy to find at any decent-sized supermarket, and would do well for any aspiring indie filmmaker looking to follow in Sam Raimi's footsteps; or, to just scare younger siblings.
This should work perfectly for filmmakers shooting on Evil Dead-sized budgets, or even those looking to get an early start on Halloween costume designs. In fact, I think I'll make some right now!
Your Daily Blend of Entertainment News