Monsterpocalypse Finally Finds Its New Director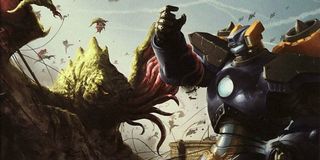 Hollywood often finds inspiration in the strangest places. From comic books, to video games, there's no dearth of ways to adapt a story to the silver screen. One of the most intriguing types of adaptation comes in the form of adapting a toy. The upcoming board game adaption Monsterpocalypse represents a perfect example of such a phenomenon. Despite remaining dormant for years, we now know that the project has finally managed to sign on the perfect director to take the reigns on the story.
According to a new report from THR, director Fede Alvarez has officially signed on to helm the upcoming Monsterpocalypse adaptation. The project has remained stuck in development hell for years and gone through multiple directors, including cinematic legend Tim Burton, but Alvarez' arrival to the film has now led to a bidding war between studios for the rights. As far as directors go, Fede Alvarez seems like an incredibly strong choice for a movie like Monsterpocalypse. His first big break came in the form of a short film called Panic Attack! which (like Monsterpocalypse) centered on giant, marauding robots attacking a small town.
Additionally, his work on the recent Evil Dead remake has generally been regarded as one of the better horror remakes in recent years. If nothing else, it shows that he has a strong pedigree when it comes to the depiction of silver screen monsters, as well as adapting previously existing material into something new.
Based upon a board game of the same name, Monsterpocalypse centers on a war between giant robots and kaiju monsters. If that sounds incredibly familiar to Guillermo del Toro's Pacific Rim, that's because it is. One of the biggest reasons Monsterpocalypse has taken so long to enter production is the fact that Pacific Rim beat it to the punch a few years ago, causing a delay in its development. Due to the immense similarities to Pacific Rim in terms of the core premise, THR also reports that Monsterpocalypse will take a decidedly different approach to the Kaiju vs. robots concept in terms of tone and execution.
Monsterpocalypse actually shows a fair amount of promise. Pacific Rim has gone on to achieve cult status since its release – thus proving that there's an audience for good old fashioned Kaiju action – and movies like The Lego Movie established that adaptations of toy brands can still have quite a bit of heart at their core. If handled properly by Fede Alvarez, Monsterpocalypse has the potential to become a major franchise in the near future – if it manages to get off the ground that is.
We will bring you any and all updates related to the development of Monsterpocalypse as they become available to us. As excited as we are for the project, it still has quite a ways to go before it materializes into anything more than a concept with a director attached to it.
Your Daily Blend of Entertainment News
Originally from Connecticut, Conner grew up in San Diego and graduated from Chapman University in 2014. He now lives in Los Angeles working in and around the entertainment industry and can mostly be found binging horror movies and chugging coffee.
Your Daily Blend of Entertainment News
Thank you for signing up to CinemaBlend. You will receive a verification email shortly.
There was a problem. Please refresh the page and try again.