7 Movie Crossover Fights We Want To See After Godzilla vs. Kong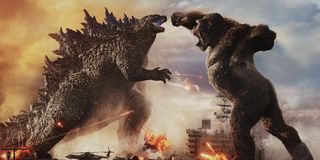 CinemaBlend participates in affiliate programs with various companies. We may earn a commission when you click on or make purchases via links.
Okay, who had their money on such an intense movie monster battle bringing so many people together? If it's you, it's time to collect your returns, because Godzilla vs. Kong is a huge hit. In the past week, Adam Wingard's MonsterVerse film has become the most successful debut at the box office since the pandemic started, ushering in bright hopes for the summer film season. And after this major movie crossover fight, how about we keep those coming too?
It's been done before with Alien vs. Predator, Batman v Superman and Iron battling Captain America in 2016's Captain America: Civil War. Although there's been some mixed results with how these crossover fight films have been received by fans, most, if not all of us can agree they were entertaining and super memorable movie events. So think outside the box with me for a moment. I'm just spitballing, but here's some ideas for more franchises that could collide after Godzilla vs. Kong's huge match-up.
Deadpool Vs. Wolverine
While we're happy to see Marvel as one big happy family at Disney and the studio now inching towards introducing mutants into the MCU, we're also bummed that we never got to see Ryan Reynolds' Deadpool and Hugh Jackman's Wolverine duke it out in a movie of their own. According to Reynolds, there were actual plans for a road trip film between the two anti-heroes, but Disney's purchase of Fox stopped that from happening. I know a Deadpool vs. Wolverine movie would be brilliant because the actors have already created their entertaining own ongoing feud. Now imagine Wade Wilson getting Logan pissed off and the pair getting their blades out? It would be classic.
Sonic the Hedgehog Vs. Detective Pikachu
In the past few years, there's been a handful of fun video game adaptations that have done well for themselves following the genre getting a pretty bad rep. Two that stick out are Detective Pikachu and Sonic the Hedgehog, which managed to be fun family-friendly outings and nostalgic for two popular franchises. Now that both properties have been given proper introductions on the big screen, it would be loads of fun to see them share the same film. Both movies are anchored in wacky worlds, so they could definitely find a way to come together and even throw their own thunder each other's way during Pikachu's next case. And while we're on the topic of video games, how about crossing over Tom Holland's Uncharted vs. Alicia Vikander's Tomb Raider?
Dumbledore Vs. Gandalf
Sure, the Harry Potter universe is leading up to Dumbledore vs. Grindelwald's famed battle within the Fantastic Beasts series, but I'll do you one better. How about Hollywood gets weird with it and imagines a time and place where Dumbledore and Gandalf were in the same place at the same time and major adversaries? Look, there's a lot about Dumbledore's life we still don't know about, and there's a possibility he could find a portal to the land of wizards and orcs of Middle Earth. Perhaps he ventured there to find a relic like the ring or hide it away from the Muggle world when he meets Gandalf the Grey. Either way, we just don't get enough wizard matchups, and this would be the ultimate magician square-off.
James Bond Vs. Ethan Hunt
For all the globe-trotting that these two do, they must have crossed paths somehow. Maybe they rented the same motorcycle on the same day? Ran away from the same explosion? Anyway, James Bond and Ethan Hunt are the reigning kings of secret agent men, and only a movie starring Daniel Craig and Tom Cruise on conflicting missions could truly determine which one of them is better. A James Bond vs. Ethan Hunt movie would be a clever fight that would start off with a round of outsmarting before moving up to high-stakes stunts and seriously awesome action sequences.
Pennywise Vs. Jigsaw
For a truly twisted movie fight, Pennywise vs. Jigsaw would sure to be fun and games. Here's how I think it would go down. The Jigsaw Killer would be on his usual nonsense trapping his victims in unsettling locations to play a game, but this time it would be housed in Derry, which is the IT villain's turf. Once Pennywise catches on to Jigsaw's plans, he would hatch an even more twisted one and challenge Jigsaw to a competition of sorts at the expense of their guinea pigs. Somehow the victims would catch wind that they are in a game alongside another group of people and find a way to outsmart them both. It would be the ultimate horror crossover!
Batman Vs. Daredevil
Here's a wildcard of a Marvel vs. DC face-off to think about: Batman vs. Daredevil! The pair of street vigilantes have actually teamed up before in the comics back in 2000. But wouldn't it be interesting to see these two collide in either Gotham City or Hell's Kitchen for a gruesome battle for justice. I'd watch a second round for Batman, especially considering he was quite unfairly matched with the godlike Superman in Zack Snyder's film. Both he and Daredevil walk this grey area of crime fighting, and it would be interesting to see what happens when they share the screen.
Pacific Rim Vs. MonsterVerse
And the final movie crossover fight I'll throw out is giant robots clashing with giant robots and monsters for Pacific Rim vs. the Monsterverse. What's interesting about this is Pacific Rim focuses on man-operated robots created to fight off the Kaiju, and the MonsterVerse is built around some similar ideas. Adding Pacific Rim into the world of Godzilla and King Kong would make the franchise even more action-fueled, and could inspire a number of interesting pairings to go at it. Pacific Rim: Uprising director Steven DeKnight actually had plans to connect the two universes in a third film, so it's not like it's never been in discussion!
There's a lot of solid, and mostly wacky, ideas here, but what do you want to see the most? Which one did I sell you one? Vote for your favorite in the poll below and check out Godzilla vs. Kong on HBO Max. You can sign up for the streaming service using this link (opens in new tab) and/or check out the film in theaters now.
This poll is no longer available.
Your Daily Blend of Entertainment News
YA genre tribute. Horror May Queen. Word webslinger. All her writing should be read in Sarah Connor's Terminator 2 voice over.
Your Daily Blend of Entertainment News
Thank you for signing up to CinemaBlend. You will receive a verification email shortly.
There was a problem. Please refresh the page and try again.