Monty Python Comedy Wants To Add Benedict Cumberbatch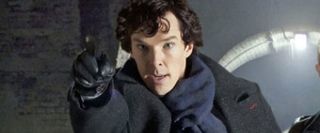 Member of the Monty Python comedy troupe have stayed extremely busy over the years with solo side projects, but they haven't collaborated on a feature-film comedy since 1983's Monty Python's The Meaning of Life. Plans have been underway to reunite the team for a new project since 2010, though the progress has hit multiple obstacles and seemed to have been stuck in the mud … until now.
Absolutely Anything, a comedy that Python member Terry Jones plans to direct, added Gemma Arterton to its ensemble according to The Wrap, and is negotiating to bring Benedict Cumberbatch into the fold. The picture now plans to begin filming in the first quarter of 2013, and will feature voiceover work from Python alumni like Terry Gilliam, Michael Palin and John Cleese. Robin Williams also has been mentioned as a star willing to lend his voice to the comedy.
The Wrap says that Anything would follow a teacher who suddenly discovers he can make anything happen with the simple wave of his hand. How does he handle this newfound God-like ability? Since it's a Python comedy, I'm willing to bet that things don't work in the teacher's favor … at least, at the onset.
Adding talented folks like Arterton and Cumberbatch to a cast is a solid idea, but truthfully, Python fans will turn out to see what the members of their beloved comedy troupe have cooked up, especially after having to wait for so long between Python projects. We'll see if this casting news finally means that Absolutely Anything is ready to get serious, begin production, and set a release date. Stay tuned.
Movie junkie. Infatuated with comic-book films. ReelBlend cohost. Resident dad. Extroverted introvert. Wants to see the Snyder Cut. Managing Director at CinemaBlend.
Your Daily Blend of Entertainment News
Thank you for signing up to CinemaBlend. You will receive a verification email shortly.
There was a problem. Please refresh the page and try again.