More Performance Capture Behind-The-Scenes From Avatar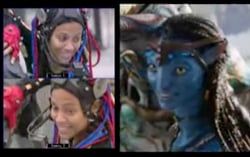 You know, as many times as I've seen different featurettes about the performance capture technology created for Avatar, it never ceases to amaze me. Regardless of what you thought about the movie (since it's made upwards of $1.6 billion, I'm sure you've seen it by now), this new way of capturing every aspect of an actor's performance is astonishing.
Probably the most interesting stuff to come out of these videos is the side-by-side comparisons of what the crew would see on stage versus what the final product would look like. It really shows how truly this technology translates the performance, making it so easy for the director to do his job.
Maybe even more awesome is the ultimate playground Cameron has created. You get to see him and his art team running around the stage with essentially toy airplanes, which are immediately converted to CGI and presented on the preview monitor. Once this technology becomes an affordable solution for filmmakers, you better believe we're going to start seeing a lot more alien worlds truly come to life on screen. The age of sci-fi is upon us.
Your Daily Blend of Entertainment News