Morning Glory Trailer: Is This Harrison Ford's Anchorman?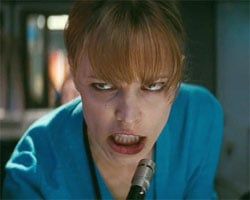 The first trailer for Morning Glory seems kind of great, like a modern day riff on Anchorman, until the last twenty seconds or so when Harrison Ford says something incredibly sappy, the teeny bopper pop music swells, and suddenly it feels like I'm in a Jessica Simpson music video, circa 2002. But before that, Harrison Ford plays a cranky, crotchety, asshole news anchor brought out of retirement by the smart, perky, driven Rachel McAdams to co-host a morning show with Diane Keaton. And it's kind of great. Morning Glory is a comedy and while Ford's not very good at comedy, he is really good at playing cranky (and I'm pretty sure he's wearing SexPanther). Meanwhile Rachel McAdams is good at, well, anything, but especially good at showing up in my dreams.
So if you're willing to overlook the sappy, shlocky, self-help crap tacked on at the end, give the first trailer for Morning Glory a shot. If it's good, it'll be the first time Harrison Ford has been watchable since shacking up with Ally MacBeal. Check out the trailer below or in HD on Apple (opens in new tab).
Your Daily Blend of Entertainment News
Thank you for signing up to CinemaBlend. You will receive a verification email shortly.
There was a problem. Please refresh the page and try again.