The Muppets Sequel Won't Have Jason Segel, But Walter Will Return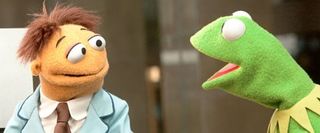 The Muppets co-writers Jason Segel and Nicholas Stoller are currently promoting their latest collaboration, the R-rated rom-com The Five-Year Engagement, but that hasn't stopped anyone from asking both for details on Muppets 2. Segel recently admitted he would in no way be involved with the sequel, which spurred inquiries about what role his manly Muppet brother Walter would have in the next adventure. But last night, on the red carpet for The Five-Year Engagement's world premier at the Tribeca Film Festival, Stoller—who is penning the sequel with The Muppets director James Bobin—assured Vulture, "Walter is coming back."
"He is not making a cameo," Stoller continued, "He is heavily involved in the story." But what is the story? Stoller was reluctant to give away details, as the script is presently in the works, but more traditional Muppet fans will be glad to know he and Bobin are looking to back to the earlier Muppet movies for inspiration. "It's in the early stages, so everything could change, but right now it's a Kermit-centric story, as a lot of the original movies were," Stoller said.
Personally, I'm hoping they stay on this route. The creation of Walter was an inspired way to re-introduce the Muppets, establishing their past through an admiring fan that ultimately makes his own Rainbow Connection. However, Walter as a character isn't nearly as engaging or memorable as the classic Muppets, so it's a smart move to shuffle him into the supporting players and put Kermit back in his place as the Muppet movies' emotional center.
The next question that's sure to follow Stoller through every press stop is what's next for the Muppets? At movie's end, the theater was saved—thanks to a well-timed head trauma—and the world remembered why they'd loved this motley bunch of weirdos and vaudevillians. So will the next feature continue with this arc and chart the Muppets attempt to remount their classic show or will Bobin and Stoller take a cue from The Great Muppet Caper, which also came after a Hollywood-centric story, and transplant the characters to a whole new environment wherein they can reign hysterical havoc? Or perhaps they'll do both, sending this daring troupe of entertainers on a world tour, where they can bounce from Kabuki shows to Bollywood! Really, when it comes to the Muppets, the possibilities are endless.
Staff writer at CinemaBlend.
Your Daily Blend of Entertainment News
Thank you for signing up to CinemaBlend. You will receive a verification email shortly.
There was a problem. Please refresh the page and try again.