The NSFW Hell And Back Trailer Is Hilarious, Filled With F-Bombs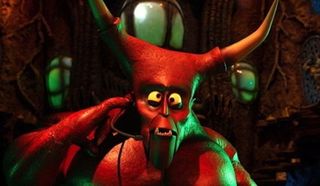 If you're in the mood for a stop-motion animated movie that you can watch with your whole family, you're going to want to keep moving. However, if you happen to be interested in watching adorable, yet foul-mouthed animated figures curse up a storm and go on an adventure through Hell where they encounter all kinds of demons and the Devil himself, check out this red-band trailer for Hell and Back. But don't let your kids see what you're watching or they'll want to look, too, and this is definitely not child friendly.
This R-rated trailer from Yahoo is definitely not full of language that you're going to want your kids to emulate, unless you're interested in them becoming a Sam Kinison-style stand up comedian. Then by all means, go right ahead and invite the youngsters in for a look. In a world of snuggly family animated movies like Inside Out, or really anything made by Pixar, Hell and Back is certainly more adult fare.
Hell and Back back revolves around two friends, Augie (T.J. Miller, Deadpool) and Remy (Nick Swardson, Bucky Larson: Born to be a Star), who must journey to Hell in order to rescue their pal Curt (Rob Riggle, 21 Jump Street), after he gets sucked through some kind of portal to the underworld.
Upon arrival, they encounter a colorful cast of demons, hell-spawn, and sinners of all stripes. This includes Deema (Mila Kunis), an angel cleverly named Barb the Angel (Susan Sarandon, who apparently gets to sing in the film), and, of course, old Beelzebub himself, voiced by Bob Odenkirk. Those are just a few of the famous voices you'll be hearing should you choose to go on this particular subterranean cinematic adventure, as the cast also includes the likes of Michael Peña, Danny McBride, Jennifer Coolidge, Paul Scheer, and many more.
Hell and Back comes from the minds of Shadow Machine, the studio that is responsible for the likes of Bojack Horseman, Robot Chicken, and Triptank. So, if you're familiar with any of those properties, you get a pretty solid idea of what kind of humor you're in for here, only with the freedom to be a nasty as they want to be. You're going to get things like that masturbation/hand-rape joke, which you're probably either going to think is sharp and edgy, or in poor taste and trying to be edgy. If we had to guess, after watching this trailer, you probably already know whether or not you're interested in this movie.
If nothing else, if you prefer that your animation skew towards the more grown up side of things, this will tide you over until Seth Rogen's Sausage Party comes along.
Hell and Back opens up on October 2, and apparently Hell has never been hotter.
Your Daily Blend of Entertainment News