Naomi Watts, Liev Schreiber And Christina Hendricks Lead Boxing Biopic The Bleeder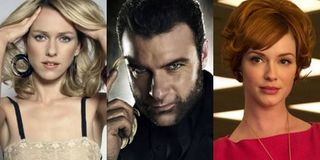 Liev Schreiber and Naomi Watts, not necessarily the most popular celebrity couple by paparazzi standards but definitely one of the most likable, have acted together once before, in the little-seen period epic The Painted Veil. But what better way for two working actors with young kids to keep the family intact than to act together again? According to Variety the pair will be teaming up again, along with Mad Men's Christina Hendricks, in the boxing biopic The Bleeder, about former New Jersey heavyweight pro Chuck Wepner.
Remembering his Sabretooth physique it's not hard to imagine Schreiber stepping into the role of Wopner, who went 15 rounds against Muhammad Ali in 1975 and is credited with inspiring Sylvester Stallone to write Rocky. A year later he also went on, unbelievably, to fight Andre the Giant, who won when he threw Wepner out of the ring; that's a bout I'm dying to see recreated on film. It's unclear which roles Watts and Hendricks will play, and I wonder if Watts and Schreiber will do that thing real-life couples do sometimes and avoid playing married onscreen. According to the Variety article Wepner was a famous womanizer, so there's presumably plenty of room forth actresses in the story.
Jeff Feuerzeig will be directing The Bleeder, his first feature since winning the directing prize at Sundance for his documentary The Devil and Daniel Johnston. The project, like so many others, is being sold to buyers at Cannes this week.
Staff Writer at CinemaBlend
Your Daily Blend of Entertainment News
Thank you for signing up to CinemaBlend. You will receive a verification email shortly.
There was a problem. Please refresh the page and try again.