Orlando Bloom Confirmed To Return As Legolas In The Hobbit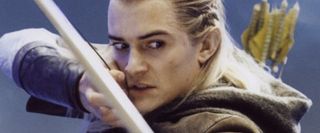 When Orlando Bloom last talked about his possible participation in The Hobbit he wasn't 100% certain that it would happen, but he was saying he had plans to grow his hair long and blond again. Now he'd better bust out the hair dye; according to a post on the official Hobbit Facebook page, Bloom is confirmed to return as Legolas. Here's what Jackson had to say about bringing back another member of the original Fellowship:
It's still a little unclear how Legolas will fit into the story this time around, since his character isn't mentioned in The Hobbit at all; given that there are two films being made, one of them a bridge to the Lord of the Rings trilogy, it's possible to imagine some extra story elements that will help introduce us to Legolas among the Elven people. I'll leave it to the true Tolkien fanatics to figure out the details of that, but those of you still rooting for Orlando Bloom's massive movie star career can look forward to him officially reprising his most iconic role.
Your Daily Blend of Entertainment News
Staff Writer at CinemaBlend
Your Daily Blend of Entertainment News
Thank you for signing up to CinemaBlend. You will receive a verification email shortly.
There was a problem. Please refresh the page and try again.